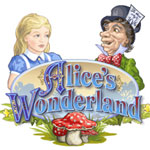 Bet365 Games member "Vassilis T" hit the jackpot last week on a fantastically unique video slot called Alice in Wonderland. The lucky winner hit the game's progressive jackpot, pulling in a prize of £107,808.
Alice in Wonderland slot is obviously based on the classic tale by Lewis Carroll. It is a 20 line, five reel video slot packed with special features. The most lucrative feature, as Vassilis can attest to, is its progressive jackpot. This big prize is paid out during the Tea Party Bonus Round, in which Alice, the March Hare, the Dormouse and the Mad Hatter sit around drinking tea while players win big prizes.
The game's graphics are cartoonish, and they are much brighter and more playful than the visuals that came out in Tim Burton's visit to Wonderland in his recent film starring Johnny Depp. This slot is light-hearted and fun, but as this recent progressive win shows, it still packs a powerful punch.
Vassilis T won this jackpot at Bet365 Games, a Playtech powered site offering more than 150 top casino games, including several other popular progressive jackpot slots like Stravaganza and Gold Rally. Beach Life is currently offering the biggest prize, with nearly $1.5 million just waiting to be won.