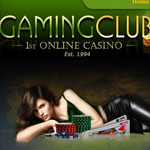 A study undertaken by Gaming Club internet casino's parent company Carmen Media Group suggests that, based on current trends, the average online progressive slot jackpot will be over $1,000,000 by 2018. Today, Gaming Club reports that its average jackpot payout is $50,000, but that includes both progressive jackpots and other in-game big payout jackpot wins – in 1995, the average "major jackpot" win was just over $5,000.
Can this exponential growth actually be sustained? A Gaming Club spokesmen certainly thinks so, saying in a publicly-released statement that "within a few years, we're confident that jackpots will regularly make our winning players overnight millionaires."
The reason for this rapid increase in single-hit payouts is quite simple: The birth and growth in popularity of the networked progressive jackpot; indeed, in seven years of the Microgaming progressive network, the big company has awarded over $260 million in jackpots alone. Since such progressive jackpots are generated by taking percentage of every wager worldwide, a massive jackpot pool is much more quickly generated than in a single-casino, single-machine situation.
Big winners are of course becoming more common than ever, with record-breaking wins basically happening once a year. The largest-ever online slot jackpot was hit last summer by player Georgios M., who hit Mega Moolah for a huge €6.3 million. The biggest recent winner was a Catherine M. of California, who won just a smidge under $1 million on Red, White & Blue at Go Casino.