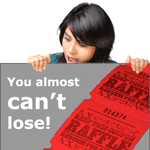 Typically on the pages of Gambling Results, you'll see six-figure winners in slots and state lotteries all the time – but winning $775,338 in a *raffle*? That's newsworthy!
The lucky winner of this surely record-breaking raffle in Michigan, so far identified publicly only as "Santo," was the beneficiary of a simple local promotion that essentially "went viral" to run through 49 weeks and sell a crazy 238,000 tickets in seven days alone.
The holder of quite possibly the world's biggest raffle pool ever was the Carleton Rotary Club of Carleton, Michigan. Beginning nearly one year ago, all the club sought to do was raise a little money by holding a "Jack of Spades raffle." The idea was that one winning ticket was drawn each week and the ticket-holder rewarded with a prize; the winner could then draw from a deck of 52 cards plus jokers to increase the prize. The jack of spades was designated as the jackpot card – a card it took 49 weeks to draw. (Talk about your progressive jackpots…
By the time the 49th and final draw was made on Friday night, lines formed at the Grafton Inn Sports Bar & Grill – where the raffle had been held weekly – to buy tickets hours before the establishment opened.