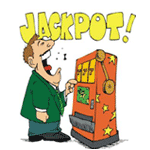 A couple of twenty-something Canadians hit a massive progressive slot jackpot while playing at Casino Regina in Saskatchewan, Canada over the weekend. The pair started the evening at the roulette tables, and they were having a rough time. After losing more money than they would have liked, the young men returned later in the evening, resolute to do better.
A slot machine caught their eye – it was called Monte Carlo, and it had been occupied most of the night. They saw their chance and dropped some coins on the game. Their luck changed. A $40 gamble helped them hit the $913,940 jackpot, changing their lives forever.
"I was extremely shocked," said one of the lucky winners. "I didn't say too much for the entire night. I was up until about 5 a.m. just sitting there."
The last time Monte Carlo hit was back in 2008, but this weekend's win set a record for the biggest amount won in the 14 years the casino has been open. It is also the largest slot payout ever in Canada.
Slot fans hoping to net their own massive jackpot should try their hands on Mega Moolah, an online slot machine with a jackpot that is sitting at almost $4 million, growing bigger by the minute.