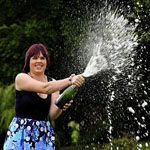 Four winners shared in this weekend's UK national lottery jackpot grand prize of £4.47 million, but none were as openly generous – or as young – as Stacey Bywater of Holmfirth, England. Stacey, who is 18 years old, was allowed by her parents to play the lottery after her last birthday, even though U.K. law says that anyone over 16 may win.
Bywater's share ended up being exactly £1,117,779 (about $1.75 million), but British media is happily reporting that Stacey has level-headed plans for the money. First she says she'd like to help her mother and father get a bigger home, moving out of the council house they're residing in now. She'll at least be putting down the deposit on a mortgage for a new house.
Afterward, Stacey said she'd be buying herself a Mini Cooper convertible and perhaps a living space – but only for rent. "I'm only 18 and I don't want to leave them yet," she told local media outlets. "I don't think it has sunk in that I'm a millionaire."
The winning numbers chosen by Stacey and three others were 13, 16, 22, 25, 31 and 39. The total prize pool for last Saturday's draw was over £14 million ($22 million).