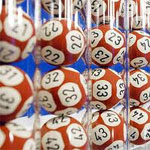 A Shanghai resident won the lottery just days ago, claiming a 259 million yuan jackpot ($38 million USD). This is the second largest lottery win ever recorded in China.
The ticket, purchased at a lottery booth in Dalian Road, Yangpu District, was for a game from the China Welfare Lottery called Union Lotto, sometimes known as the two-colored ball game. Each ticket offers up to 55 top prizes and many more secondary prizes. The winner grabbed 50 out of the 55 top prizes, each one worth five million yuan (about $740,000 USD). An additional six million yuan ($885,600 USD) was won through secondary prizes.
The winner, whose identity has yet to be released, will have to pay approximately 20 percent of the winnings as tax.
The Union Lotto is a progressive jackpot, so it keeps growing week after week if there is no winner. Last year, a player from China's Henan Province won 359.9 million yuan, the largest lottery jackpot the country has ever seen.