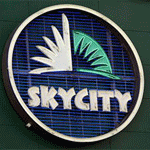 Sometimes it seems even quitting gambling can be a gamble – especially if you win a jackpot.
Apparently finding himself becoming a problem gambler back in 2004, New Zealander Sothea Sinn and his then-girlfriend filled out the paperwork for a self-exclusion ban at Auckland's Sky City Casino. But Sinn had either overcome his problem or lost control of it last month when he went to play at Sky City again.
Sinn's trip to the casino ended up becoming a serious good news/bad news scenario: The now 28-year-old hit a $44,000 jackpot playing the pokies; unfortunately for him, Sinn was told that the ban was still in place and that they would not be granting his big prize after all.
"I was absolutely gutted," said Sinn to Auckland's Dominion-Post newspaper.
Stating that he believed the self-exclusion ban would have expired within six years' time, the casino countered by claiming such a ban can only be removed once the banned player has attended a certain number of mandatory counseling sessions to treat addiction to gambling.
Sinn has told local media that he will hire an attorney and attempt to bring a formal complaint to the New Zealand gambling authorities in order to obtain his winnings.