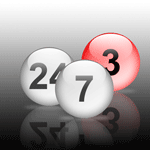 In what South African National Lottery spokeswoman Thembi Tulwana is calling "another dream come true," a 66-year-old man from Gauteng province has been awarded Saturday's grand prize ZAR 10 million (about $1.38 million).
When claiming the prize, the man thought he had won a "second-division prize" in the lottery worth just under $15,000. Instead he found out he actually one the big one when rechecking the numbers. His reaction: "Unable to contain his disbelief, he broke down and cried hysterically," according to representatives of Gidani, the Greece-based company running the lottery.
They went on to state that "He then called his wife of 43 years, whom he trusts entirely, to share the news."
Though on the face of it, the grand prize doesn't seem that huge, it's quite an amazing windfall in a country where, as Wikipedia informs, "The median annual income of Black working adults aged 15-65 is ZAR 12,073 [$1,665]."
Once the man composed himself a bit, he told lottery officials that this prize meant financial independence, plus the opportunity to buy property for himself and his family's caretaker, and possibly travel. "We will now be able to do things sooner rather than having to wait until we can afford to buy what we like," he said.
The South African National Lottery started in 2000 and is today overwhelmingly the most popular form of gambling in the country: A study by the National Centre for the Study of Gambling in 2006 showed that 82% of citizens played the lottery and 53% did no other form of gambling.