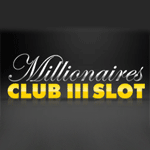 A series of popular online progressive jackpot slot machine game called Millionaires Club are now offering a prize of more than $1 million. The games, developed by internet casino software company Cryptologic, feature high-life themes that give players a glimpse of the lifestyle that awaits them if they win the big prize.
The series is made up of three games, appropriately named Millionaires Club I, Millionaires Club II, and Millionaires Club III. The three slots feature different graphics and gameplay, but each shares the same Cryptologic casino jackpot. The jackpot is progressive, meaning it grows bigger every time a player makes a wager on the game. These jackpots continue to grow until they are won; the jackpot is then reset.
Millionares Club has a history of playing out big. In 2007, a 29-year-old blacksmith set a world record by winning over $4 million from the game at InterCasino.
It is not uncommon for online progressive jackpots to reach seven figures. The largest online progressive slot jackpot ever won actually paid out over $6 million, back in 2009 on a slot from Microgaming software called Mega Moolah. The jackpot on the Mega Moolah series of games now stands at an incredible $3.8 million.