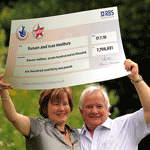 Imagine you just won a £7.7 million ($11.7 million) in a national lottery. What would be the first thing you did? Surely a minority would answer, "Immediately get back to work," but that's precisely what Ivan Westbury did after receiving the life-changing news last Sunday.
Westbury's wife of 21 years, Susan, was at a local Tesco checking on her lottery ticket. Susan attracted a bit of attention as she had the ticket scanned by a cashier, who informed her they'd have to call the lottery commission for more information. The information imparted was that, yes, the Westburys had won £7,706,631 in the U.K. lottery – at which, Susan said, "I nearly passed out."
Susan called her husband, who joined her at the store after leaving his lightning-protection business. The two whooped it up for a bit, but within the hour Ivan was back at work. In explaining his actions, the self-professed workaholic was quoted as saying, "I've got a passion about work […] and I just love what I do. I suppose you could call it sad but I haven't had a day off for four years."
The Westburys will now take that vacation, though it was planned before the couple bought the lottery ticket: They'll be taking a day trip to Cornwall.
In hoping to celebrate their win that evening, the Westburys ironically found that they couldn't afford to pay for some pub drinks in cash.
The couple has stated that they'll be doing "normal lottery things" by making a few major purchases in addition to giving their children and grandchildren some money – and they'll be leaving the business open.