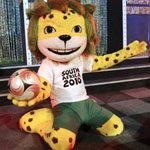 Mike McNally, a 29-year-old business graduate and football fan from Bradford, England, turned a £10 bet into £650,000 ($1 million) betting on World Cup at a popular online sportsbook in the UK. McNally correctly predicted the results of an incredible 36 out of the 64 matches of the 2010 World Cup, beating hundreds of other football fans from around the world who also entered the contest.
The win wasn't secured until the final match. McNally and another participant were tied 35-35 until the Holland and Spain match. McNally picked Spain to win, while his rival had put his money on Holland. McNally must have been on the edge of his seat during the entire match, only relaxing after Andres Iniesta's extra time goal for Spain put him in the lead.
"I was speechless when I learned I'd won," McNally revealed. "I just wish England could have performed as well as I did."
Punters who missed wagering on this year's World Cup may feel left out after learning about McNally's success, thinking about all the 2010 World Cup bets they could have made. This big football tournament series won't be back until 2014, but in the meantime, there are thousands of bets offered every day at sportsbooks across the internet. Just check out the latest online sports betting odds, then put your money down to win.