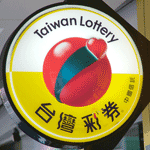 For most people, winning a nearly $15 million lottery progressive jackpot would be the ultimate sign of good luck – but not a recent record-setting winner in Taiwan. Fearing "she would meet the same sorry fate as [lottery] winners in foreign countries she read about," a woman in Taipei City waited nearly two months before finally deciding to step forward and claim her prize.
On April 8, a NT$480 million ($14.93 million) jackpot had been accumulated. After the draw, the Taiwan Lottery commission announced that a single winner in Taipei City had taken the big prize. But at home, that ticket buyer was simply in shock.
According to the Taiwanese official news agency, the winner's "mind went blank for more than ten minutes after learning that she had won." She could not sleep the night after finding out the news and in following days read a number of stories about multi-million dollar lottery winners going broke or meeting terrible fates after their jackpot wins.
Ultimately, the woman and her husband decided to claim the money after all – At 55 days past the draw, this was easily the Taiwanese record for the longest such period of time. After taxes, the prize will be worth about $11.95 million. The couple also stated that they would immediately be donating NT$1 million ($31,100) to charity.