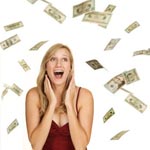 Ann Marie Stubbs got the bingo bonus of a lifetime last week. This Scarborough resident was at home playing online games at Virgin Bingo when she won a big jackpot. Stubbs was so surprised and excited when she realized she had won, that she suddenly found herself ready to give birth!
Stubbs was pregnant while enjoying a game in the . When she went into labour, she announced though the game's live chat feature, telling the other players that she had to abandon her game and rush off to the hospital.
"Everyone has been fantastic in the Marrakesh room," she said. "I could not believe my waters broke while I was playing bingo, to say I was shocked was an understatement!"
Within hours, Stubbs had delivered a healthy baby boy: Harley Jay Stubbs, weighing in at 7lbs 1oz. Virgin Bingo was so excited to her about her "double win" that they caught up with her to offer their congratulations by presenting the woman and her new child with a bouquet of flowers.
Internet bingo in the UK is becoming more and more popular, not only with mums-to-be but also with a younger crowd as well. Sites like Virgin Bingo offer non-stop games in a variety of styles, and they use live chat technology to maintain the social aspect of traditional bingo halls. The site offers free bingo games several times a day in their Marrakesh room so new players can try things on for size.