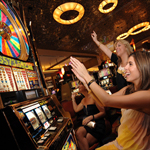 Imagine hitting the progressive jackpot on a slot machine – a jackpot huge enough to change your life for the better forever – only to be later informed that the winning sum of millions you visualized in your bank account is far, far less. This is precisely what has recently happened in Colorado-based casinos. And not just once, but twice in just over three months.
On June 1, Mary McMahon of Colorado Springs was playing a progressive jackpot slot machine when it seemed to play off big and the display flashing "Jackpot." Also flashing on the display was the figure "$11,000,600" which McMahon (and casino officials) at first believed was her winning total.
Instead, as it turns out, the progressive jackpot at the time of the winning spin was in actuality $1,672.82 and that the $11 million figure referred to the current cumulative jackpot – this should have read "$600." Colorado Division of Gaming attributed the incorrect "11" in the slot machine's display to human error in the game's original programming.
Even worse is the story of Louise Chavez, who in late March was playing a penny slot machine that indicated she'd hit a $42.9 million progressive jackpot – even though the highest possible progressive payout on the machine was $251,000. The matter was immediately referred to state officials who were able to determine that the payout should have been $20.
For her troubles, Chavez was offered a night's stay and breakfast at the casino hotel plus $23, the amount she'd played on the machine before the incorrect jackpot. Chavez later appeared on Colorado news stations with her story, claiming fraud.
"Whatever that machine said, I should get it," she said. McMahon later similarly stated that "I think they should fix the machines, because if you win a big jackpot, you've won it."