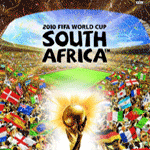 One serious longshot and one dark horse remain among the 2010 World Cup final four, and if one of these two wins a few lucky punters will get some nice returns indeed. Even if the more highly regarded Holland or Spain hoists the Cup for the first time, though, the results will still be nice indeed for some.
Anyone with foresight enough to have bet on Germany at the start of the tournament is feeling pretty good right now. Now the hottest team left, BetUS was typical and offered a line of 14/1 on the Germans to win this thing – and eight goals in the past two games say they've got a shot. A $20 bet at BetUS Sportsbook in June could be worth a cool $280 on Monday.
Uruguay is the other surprise remaining in World Cup betting. Not only would a Uruguay victory in the championship represent the biggest upset ever, a mere $20 bet placed at Ladbrokes in early June will be worth a crazy $2,500.
As said before, either Holland or Spain will pay well in what was a fairly open tournament from the go with no true consensus favorite: Just last week, Netherlands was still getting 15/2 odds at BroburySports. Those doing their World Cup football betting at Bodog would have gotten 5/1 on Spain through most of the tournament.
Whoever wins the 2010 World Cup, two things are certain: This has been a great one, and some clever punters are going to be very happy with their sports betting expertise.