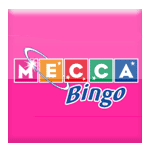 Mecca Bingo
, already a name-brand leader in the U.K. and beyond, is sure to become much more popular beginning in July. Mecca Bingo representatives have just announced the imminent launch of a brand new Club Bingo room at Mecca, to be opened on July 1.
The new Club Bingo room will include brand new games like Penny Bingo and Superbooks alongside more traditional games offered by Mecca Casino. "Penny Bingo" lives up to the name, with live games everyday for 1¢ per ticket from 1 p.m. to 2 p.m. Ticket prices go up by 1¢ hourly until 5 p.m. closing time, so hurry in before 4 p.m. and you won't have to pay a huge 4¢!
The Superbooks game will be open daily from 5 p.m. to 7 p.m. and 9 p.m. to 10 p.m. Players can either play for free or can win 5x to 10x the prizes by paying cash entry.
Present promotions going on at Mecca Bingo include the daily 75-ball game for £1,000 plus their linx Bingo games and the World Cup Chat Challenge: a trivia contest with £550 to be won when CMs periodically ask questions during bingo games – and Mecca promises that absolutely no questions about the World Cup or football will be asked!
Both new and existing players can take advantage of Mecca Bingo's £5 no deposit offer to play bingo in their extremely popular Britain's Got Talent-themed game. And new players *must* check out the 100% initial deposit match bonus for up to £50 – one of the bigger UK Bingo bonuses out there!