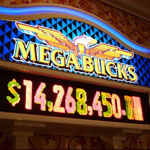 Anyone who has spent time gambling online knows that there are hundreds of different casino games out there, hosted at different online gambling sites all across the internet. Every casino game out there has its own rules and style, and each one pays out at different odds and at different rates.
When it comes to choosing a game, some players go for titles that they enjoy playing. Poker fans, for example, don't stray far from Texas Hold'em or Five Card Stud. Other players don't much care what they play – they follow the money instead.
In the quest to find the best online casino payouts, gamblers who are after money want to know how to win big and win fast. Games like blackjack and baccarat offer great odds for players, and over time, players with enough skill can make a lot of money on these games. But anyone who wants to become rich with a few clicks needs to focus on progressive jackpot slots.
Progressive jackpot games are networked. Every different progressive title is connected together by a single jackpot, and that jackpot is made up of two things: seed money and additional money from wagers. The seed money comes from the software company that makes the game. Some progressive slots are seeded at a few thousand; others at a cool million.
Once seeded, the progressive jackpot grows in value as players around the world wager on the game. A small percentage of every wager is added to the progressive jackpot prize, and it continues to get bigger and bigger until one lucky player wins. Once it pays out, it is re-seeded, and the process starts all over.
Some progressive jackpots pay out small amounts, but others can change a player's life forever. The biggest progressive jackpot ever paid out was won in May of 2009 on a game called Mega Moolah, which earned one lucky player an incredible €6.3 million!
By using an online jackpot finder, players can track the current value of all the best progressive slots on the internet, and can see instantly which ones are paying big. On any given day, well over $10 million is waiting to be won from progressive slots online. These massive prizes are just a click away – don't miss out!