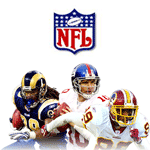 The question "How do you read NFL football odds?" can be answered in two different ways. One response would answer to the nuts and bolts of the question, explaining those actual slates of numbers. The other would be to attempt to explain, as we do in the United States, the deeper meaning in those numbers the online bookmakers provide.
Considering a few relevant examples will help us consider both questions.
All lines except for those on pointspread (or handicap) bets may be presented in any of three ways: fractional, decimal and American. Fractional is the classic 3/1 format; decimal format shows you the payout based on 1 unit out to two decimal points, so 3.00 for the previous example; American style shows the payout on 100 units, so the current example would be +300 in this format.
The very basic proposition bet in all of NFL betting is of course wagering on the Super Bowl winner. Currently last year's finalists, the Indianapolis Colts and the New Orleans Saints, are the favorites to win Super Bowl XLV at 8/1 (8.00, +800) and 9/1 (9.00, +900), respectively, by PaddyPower bookmakers.
How do you read these particular odds? These numbers mean simply, "It's too far in advance of the season, which begins in September, to make a realistic call so we're going with the default choices." You can also wager on each division winner and the conference winners at most sports betting websites, but such bets in June are strictly for loyalists.
The most popular NFL bets week to week are the pointspread and over/under lines. These are represented by a plus or minus followed with a number of points. The favorite always receives a negative number, the underdog is positive. This bet works the same way as a handicap in golf, so taking the underdog means adds points to the result of the game; in a close game, the underdog often "wins" at the bookmaker.
Over/under lines represent what the oddsmaker believes will be the total number of points scored by both teams in the game. Pick the over if you think the final score will add up to more than the bookmaker's line, under for less.
At BetUS, odds are actually already posted for week one in the NFL. In the Oakland Raiders-Tennessee Titans game, the Oakland Raiders are the underdog with a +7 pointspread and there's an over/under of 41 points.
How do you read these NFL football odds? Well, Oakland at +7 means the bookies figure the Raiders to be just as awful as they have been for seven seasons now, while the 41 over/under indicates that this game will be about as exciting as most fans would expect. You can bet on it.