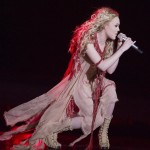 Europe's most popular entertainment competition is also one of the world's most wagered-upon TV events: We're talking about the Eurovision Song Contest here, a talent show watched by as many as 600 million television viewers plus another 75 million or so by online stream.
While the 2010 edition of the contest has a prospective winner pretty much wire to wire – last year, Alexander Rybak of Norway had shorter than 1/1 odds before the final – a heavy favorite has emerged only after the second-favorites,
A brief look at the leading contenders, with odds provided by Paddy Power, follows.
•  Sufara, "Drip Drop," Azerbaijan. Country that only first entered the Eurovision Song Contest in 2008 has a near-certain winner this year with this easy, sappy ballad.
Representative (translated) lyrics: "I don't know how to stop / How to stop / These tear drops / That drip drop, drip drop / Drip drop, drip drop."
Odds: 6/4.
•  Eva Rivas, "Apricot Stone," Armenia. Sentimental song of homeland and childhood stands a chance against Sufara, if only because it's in English, a definite boost to any contender in this competition.
Representative lyrics: "Now I see the Northern stars / Shining brightly in the storm / And I've got an avatar / Of my love to keep me warm."
Odds: 8/1.
•  Harel Skaat, "Milim," Israel. The strongest entry from the pretty-boy category, Skaat has charisma to spare.
Representative (translated) lyrics: "The sadness is here again, the fear is here again / And the end is at my window. / Broken glass and silence again / Exhausted and forsaken in my mind."
Odds: 12/1.
•  Manga, "We Could be the Same," Turkey. Sensitive boy band implies a sort of cross-cultural "Romeo & Juliet" love story.
Representative lyrics: "But I know the world could be great / I can love you more than they hate / Doesn't matter who they'll blame / We can beat them at their own game."
Odds: 12/1.
•  Niamh Kavanagh, "It's for You," Ireland. The once-dominant country returns to the Eurovision Song Contest final with perhaps its strongest entry in years.
Representative lyrics: "Look into these eyes / Hold onto these hands / Believe in this heartbeat."
Odds: 14/1.
Other countries represented in the 2010 Eurovision Song Contest final include Cyprus, Denmark, Georgia, Romania and Ukraine. The final round starts at 7pm CET on Saturday night.