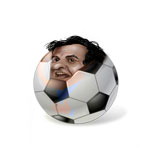 The bitter fruit of soccer governing body UEFA's labor is blooming in a Europe-wide probe across 12 countries to determine to what extent matches are being fixed for gambling purposes. It appears impossible to say whether UEFA's efforts will or even can succeed before the 2010 World Cup kicks off in South Africa on June 11.
Sydney Morning Herald: Nine Swiss footballers suspended
Switzerland's national soccer association has suspended nine players, including five for an indefinite period, for match-fixing as part of the Europe-wide UEFA probe.
The national league board said in a statement that "The Swiss Football Association is, according to current information, the first and only federation which has treated in the consequent manner the suspects of match-fixing made public in autumn 2009."
None of the nine players suspended were in the top division of Switzerland football. The four players given sentences were banned from Swiss soccer for between 12 and 36 months.
The suspensions were the result of 50 raids in November in Austria, Britain, Germany and Switzerland in the probe's first big move. In these 50 actions, over €1 million was seized. UEFA official stated that "Without doubt this is the biggest scam there has ever been in European football."
Sports Illustrated: UEFA quizzes players at Hungarian champion Debrecen over suspected match-fixing
UEFA officials recently questioned eight players of Hungarian league champion Debrecen, which lost all six of its Champions League matches to Fiorentina, Liverpool and Lyon in the 2009-10 season, for which the club earned €9.2 million.
Though UEFA offered no comment as to the extent or subject matter of the discussion, Debrecen official Csaba Bartha did not make much of it, writing on the official club website that "the degree of seriousness of the matter is reflected by the fact that they didn't even [transcribe] the statements."
Debrecen is the second Hungarian club to come into question in this particular investigation, after UEFA looked into a suspicious Honvéd loss in November. More than 200 games are being considered for the possibility of match fixing in the UEFA investigation.
USA Today: World Cup arrives amid global match-fixing probes
Referees in Bosnia and Ukraine have been banned for life as part of a UEFA probe in a season when fixing matches has "spread more widely through football than ever." UEFA President Michel Platini described the situation as seriously enough to put the sport itself in "mortal danger."
Another threat to the integrity of soccer has arisen aside from the existing match-fixing problems has appeared as well. English Football Association chairman David Triesman stated that Russian criminal elements would be attempting to bribe referees to favor Spain in exchange for Spain's support of the Russian bid to host the 2018 World Cup.
To prevent scandal from tainting the 2010 World Cup, FIFA officials created the company Early Warning, which would monitor any suspicious activity online concerning match outcomes. The World Cup is expected to generate about $3.4 billion for FIFA.
China is also taking on corruption in soccer at home, arresting among others Chinese Football Federation head Nan York and former World Cup referee Lu Jun.
The UEFA probe first began last year, when a "nest of corruption" was revealed to have involved matches in four World Cup nations (Germany, Greece, Slovenia, Switzerland) and six others (Austria, Belgium, Bosnia, Croatia, Hungary and Turkey).