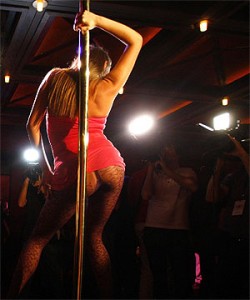 This Saturday, May 22, the Irish Pole Dancing championships will see the most flexible women from the north and south of the Emerald Isle battle for supremacy in a very unique (and very artistic) national competition. The event is heralded as a "celebration of fitness," bringing together professional dancers from Ireland's best pole schools to compete against one another and to show the world what they've got.
The dancers in this event are athletes. According to the event's Facebook page, these ladies are working to get rid of the "sleazy stripper stigma" that is often attached to pole dancing, instead emphasizing the fitness side of things. This year's Championships even offer a charitable twist: all money raised from during the competition will go to Crumlin Children Hospital in Dublin.
Paddy Power, Ireland's top online sportsbook, is offering wagers on all three levels of competition: Beginners, Intermediate, and Advanced. All wagers are outright win only, and odds are offered on all the dancers competing in each league. Only singles are offered outright, but according to the sportsbook's website, other bets are available on request.
Paddy Power Sports is professional-quality internet betting that has been around for almost 20 years. Their event coverage is outstanding, offering bets on everything from football and cricket to darts and snooker. They are even running a special promotion on Volcano Betting, where players can wager on what dates Heathrow will be closed because of volcanic ash!
Visit Paddy Power today to put money down on your favorite girl for this year's Irish Pole Dancing Championships. May the best pole dancer win!