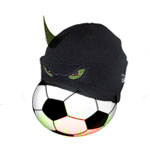 With just a couple of weeks remaining until World Cup 2010 kicks off in South Africa, law enforcement agencies all over the world are getting ready for a potentially unprecedented amount of illegal gambling. Recently, police chiefs and other lawmen have been announcing their plans for cracking down on such activities in their home countries.
People's Daily: HK police to intensify crackdown on illegal football betting, drink driving during World Cup
Tsang Tak-sing, Hong Kong's secretary for the Home Affairs Bureau, stated this week that Hong Kong police would be intensifying law enforcement against both illegal betting and drink driving while the World Cup is being played. The Organized Crime and Triad Bureau is coordinating the efforts of the various regional agencies involved in the operation.
Hong Kong police have reportedly also been watching Internet gambling activity and are employing "cyber patrols" in an effort to fight illegal football betting online. Law enforcement actions may even take place outside of Hong Kong, should sufficient evidence be gathered linking such non-domestic websites to appealing to Hong Kong citizens.
Tsang also reported that Hong Kong police had arrested seven people in four different raids, with illegal gambling activities involved worth over HK$550,000 (approximately $70,500) in the first three months of this year.
Jakarta Post: Police on lookout for gambling ahead of Cup
Jakarta police authorities have announced their intensification of Internet surveillance in order to stop alleged online gambling, going so far as to monitor Facebook and other social networking sites.
Explained Jakarta police spokesman Sr. Commander Boy Rafli Amar, "We will find out whether virtual poker games played on social networking sites … involve gambling."
In early May, two websites – IBCbet.com and Casino.SBObet.com – were shut down and their owner arrested on charges of illegally providing casino games and sports betting within Indonesia. The sites were thought to be making some $55,500 per day before the police action.
Bernama: Police To Combat Illegal Betting During World Cup
In Malaysia, local law enforcement agency CID has formed a distinct unit to deal specifically with illegal betting on the World Cup outcome and individual game results. Having just recently legalized gambling in the country, Malaysian police will now be concentrating on the unlicensed operators.
CID Chief Datuk Seri Bakri Zinin stated that even though the Malaysian government had issued gaming licenses to allow legal wagering during the 2010 World Cup, illegal betting syndicates will certainly take the opportunity to rake in profits illegally. "Anyone found betting or accepting such bets will be charged," said Bakri, "and that also includes online betting."
Bakri also stated that his taskforce would be looking for various forms of betting, as syndicates would devise many forms of betting in order to attract gamblers. He added that CID officers have already accumulated a list of suspects and probable operating locations in Malaysia.