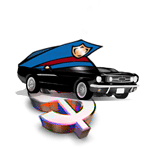 In April, after a Florida man collected over $130K in winnings from his bookie, the bookie called Officer Villar, and arranged for the gambler to be pulled over. Villar, along with his cousin who was with him impersonating a cop, took the money from the man calling it "evidence" and fled the scene. Now, a month later, the three have been arrested for armed robbery.
The Miami Herald: Officer charged in $131K gambling rip-off
When Miami police officer John Francisco Villar Jr. pulled over a man on the Palmetto Expressway last month, he confiscated a bag filled with $131,000 in cash. The bag wasn't evidence – Fillar was stealing it.
Villar was arrested on Tuesday. He, his cousin, and a third man who runs an online gambling site are being accused of orchestrating the robbery.
The story is as follows: Marvin Duarte was out collecting his winnings from his bookie, Leonardo Lastre. As Duarte was driving home, Officer John Villar pulled his unmarked Ford Taurus (license plate covered) behind Duarte's car with his police lights flashing. Villar had plain clothes on, with his badge hanging around his neck. Also with him was his cousin, wearing a bullet proof vest with the word "police" across the chest. Villar inspected Duarte's car, found the money, took it as "evidence", and fled.
It was later discovered through phone records that Officer Villar was in touch with bookie Leonardo Lastre, with Villar basically acting as a hired thug who was sent out to retrieve the money.
"It's sad that an officer would use his authority in order to commit such unlawful acts," said Detective Bobby Williams.
The charges against Villar include felony armed robbery with a firearm, armed burglary and conspiracy to commit armed robbery.
NBC Miami: Crooked Cop Helped Bookie Rob Gambler: Report
A Miami cop was busted this week after police found out he worked with a local bookie to steal thousands of dollars from a gambler.
Officer John Villar, 28, was arrested after he and his cousin Fausto Villar (who is not a cop) pulled over the gambler in April using Villar's unmarked police car. The gambler, Victor Duarte, was returning from a visit to his bookie, Leonardo Lastre, who had paid him $131,000 cash in winnings.
After Duarte left with his money, Lastre called Officer Villar with details about Duarte's car and where he was headed. Villar pulled Duarte over and took the money, saying it was "evidence". Duarte started to shout for help, but the men fled the scene.
Villar and his cousin, along with the bookie Lastre, have all been arrested. They face charges of armed robbery, armed burglary and conspiracy to commit armed robbery. Fausto Villar also faces charges of impersonating a police officer.
CBS 4 South Florida News: Miami-Dade Cop, Cousin Accused Of Robbing Gambler
A Miami-Dade police officer has been charged with using his gun and badge to steal $131 thousand in cash from sports gambler Victor Duarte. Duarte placed several bets with bookie Leonardo Lastre who operates an illegal gambling operation. After Lastre paid the man his winnings, he phoned Officer Villar, who then pulled over the gambler and stole the money back with the help of his cousin, who was impersonating a police officer.
According to an internal investigation by Miami-Dade police, Bookie Lastre and Officer Villar had been in contact several times before the robbery, planning the operation. It event turned out that some of the money in the bag that Villar stole was his own, and that he had placed it there while vising Laste the day of the robbery.
After the robbery, Duarte gave chase, but Villar got away. Soon Duarte saw a Florida State Trooper, and told him what happened. When the Trooper Matthew Mihm pulled Villar over a few minutes later, he noticed the license plate on his car had been covered. Villar's cousin ran off on foot with the money, without Mihm noticing.
Eventually, officials learned the truth, and got a search warrant for Villar's vehicle, where they found evidence of the crime. Villar, his cousin, and Lastre the bookie now face charges of armed robbery.