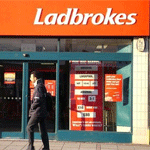 Due in part to the recent economic downturn, but also to bad weather across the UK this winter, Ladbrokes has seen first quarter profits at its high street betting shops down several percent. Online, however, things are looking promising, especially after the group cut costs by moving its online operations to Gibraltar.
Telegraph: Ladbrokes revenue dips as cautious punters stake less cash
Ladbrokes last week revealed that revenue has slipped 6% year on year, with a 10% drop in the amount of money staked by customers.
The sportsbook said that over-the-counter revenue at its land-based betting shops saw a huge drop in January due to bad weather, falling a full 17%. In the months following, trends slowly improved with April revenue down only 7%.
Sports betting is often considered to be a recession-proof businesses, but many struggled during the recent economic downturn. The latest updates from other high street bookmakers like Paddy Power and William Hill have fortunately been more promising.
Ladbrokes' new chief executive Richard Glynn said the current economic climate is still "challenging" and UK consumers are not as confident in their spending as they were a few years ago.
Despite this recent drop in revenues, Ladbrokes saw operating profits rice 3pc in the first quarter of 2010, thanks in large part to the group's move to the tax haven of Gibraltar last year.
Ladbrokes finance director Brian Wallace said he has plans to save the company around £8m a year.
Guardian: Ladbrokes shares slip as punters stay away
UK bookmakers have been struggling more than expected during the recent economic slump recession, but the latest reports from William Hill and Paddy Power are showing signs of picking up. Ladbrokes, however, said last week that numbers are dropping in their books, with the amount of bets placed in its high street shops continuing to decline.
First quarter net revenue at Ladbrokes has fallen 6%, with UK retail revenue down 11%. Over the counter revenue dropped by 10%. Its online sports betting business is also seeing a slump, mostly due to unexpectedly poor performance from their poker and casino offerings.
Newly appointed Ladbrokes chief executive Richard Glyn said, "The economic environment remains challenging and the strength of UK consumer confidence post the election is difficult to gauge. However group profitability year to date has been broadly in line with expectations."
Irish Times: Operating profit rises at Ladbrokes
UK bookmaker Ladbrokes reported a 3% rise in four-month operating profits, thanks to its recent strategy of moving its online sports betting headquarters to the gambling tax haven of Gibraltar.
The move introduced several expense reductions which have helped to offset a recent drop in revenue at Ladbrokes' UK betting shops, which is down 6% over the last four months.
The company also revealed that their net debt had fallen by £179 million, thanks to a £515 million settlement it recently received from a tax dispute.
Ladbrokes' latest strategy is to bring more attention to its online sportsbook, to make up for the drop in sales at its land-based betting shops. After moving their online betting unit to Gibraltar last year, the company expects to save about £8 million annually.