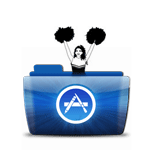 In a surprise move, Betfair has just added a sports betting app to Apple's iPhone store, breaking down Apple's anti-gambling policy. The new app uses geolocation and age verification to ensure only players who are allowed to bet on sports are able to do so. Apple has yet to offer an official statement, so it is possible that the app just slipped under the radar.
Geek.com: Did Apple just greenlight online gambling on the App Store?
You can't have sex or nudity at the Apple App Store, but now you can bet on sports using your iPhone. Either this app submission slipped under the Apple censors' radar, or they have relaxed their policies in order to make more types of software available.
Whichever the case may be, Betfair has just become the first gambling group to have its betting software (called Betfair Client) available at the store. According to EGR Mag, this development ushers in a new era for iPhone users:
Betfair's mobile chief claims that Apple imposed "no terms and conditions" to regulate gambling applications. Despite this, the app only works in the UK and Ireland.
Apple has been very restrictive lately about what apps it allows, especially when they show skin or offer adult themes. They even removed apps provided by underwear sellers because they included images of scantily-clothed men and women in their shopping apps.
eGamingReview: Betfair gambling app marks Apple turnaround
Betfair recently became the first major online betting company to offer a gambling application through Apple's iPhone App Store, marking a new stance on gambling apps from Apple.
The downloadable app, which Betfair's exchange product, marks a change in Apple's policies regarding gambling apps, which have not been allowed in the past.
Charles Palmer, head of Betfair mobile said: "There were no terms and conditions about gambling. We approached Apple with the proposal and our app, showing it does the normal KYC and age verification."
The app is only available to customers in the UK and Ireland, and uses the iPhone's built-in GPS to make sure bets are only placed from these areas.
"We have also added the ability to locate where the customer is. It can tell if you are in the UK or Ireland, and if you're not, it won't function. We put that in there as an extra precaution – they didn't request that," he said.
Computer Weekly: BetFair puts iPhone gaming app into Apple App Store
BetFair, one of the world's biggest online sports betting operators, just launched an iPhone app that allows punters to bet on sports while on the move.
The launch is part of an attempt by BetFair to "mobilise" its business. The company already supports browser-based apps on Symbian, Blackberry, and Android, and they are working on spreading out even more.
The new app gives the company fine control over authentication and verification of bettors, making it almost impossible for under-age people to place bets. It also uses the iPhone's GPS locator to only allow bets to be placed from authorized jurisdictions.
According to BetFair, mobile customers are up 40% from last year, with revenues from mobile customers up a full 50%.