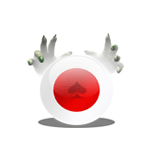 The gambling industry is one that continues to blossom exponentially. Originally, Las Vegas was considered to be the gambling capital of the world. Macau passed it in popularity after just a few short years and Japan is starting to look like a promising venture for some of the world's larger gambling operations.
The Street: Las Vegas Sands Bets on Japan
Las Vegas Sands plans on expanding its Macau-based Sands China into Japan, which it predicts could become Asia's largest gaming market. Sands has already been approach by local gaming firms in Japan.
Gaming is still week in the U.S. and Macau has been the focus of casino operators. In the first quarter Sands Macau, which has three casinos in the Chinese gambling enclave, saw its profit quadruple to $110.5 million from $26.7 million just one year ago.
Revenue at Sands China shot up 24% to $944 million from $761.7 million in the year-ago period. Overall, Macau posted a record 70% surge in gaming revenue in April to $1.76 billion. And it appears the gambling hub could be on track for another record month.
Casino operators aren't just limiting their Asian expansion to Macau. Last month, Sands opened the first part of its $5.5 billion hotel-casino in Singapore. The company expects the Singapore casino could earn $1 billion annually. MGM has also said that it is looking into other gaming markets, including Vietnam.
Reuters: Sands China bets on Japan; sees strong Q2
Macau-based Sands China, the world's second-most valuable casino operator, has its sights on expanding into Japan, which it predicts could become Asia's largest gambling market.
Expanding in Asia beyond Macau has become important for casino operators such as Sands and Wynn Resorts, which worry about Beijing's erratic travel restrictions on mainland Chinese visiting Macau, the only place in the country where casino gambling is legal.
Japan has long debated legalizing casino gambling and could make a decision soon as it looks to the example of Singapore, which recently opened two major casino resorts. Sands China's parent Las Vegas Sands opened its $5.5 billion Singapore casino resort, the world' second-most expensive, late last month.
Japan has made slow progress on allowing casinos, partly due to fears they could trigger social problems.
If Japan moves to legalise casino gambling, the first casino could open by around 2014-15, said Jacobs, who was chief executive of an international management services firm before he joined Las Vegas Sands in March last year.
Channel News Asia: Marina Bay Sands targeting Southeast Asian market
The $5.5 billion Marina Bay Sands integrated resort is betting its chips on the Southeast Asian market. The region is expected to account for over a third of its business in Singapore, according to Sheldon Adelson, the
chairman of its parent company Las Vegas Sands.
He said the company is also considering building integrated resorts in Europe and Japan.
The Marina Bay Sands resort, which was partially opened on Tuesday, April 27, is expected to break even in just 5 years.
Marina Bay Sands will be targeting primary markets like Malaysia, Indonesia, Thailand, Vietnam and Singapore. Combined, these countries will make up some 40 per cent of Marina Bay Sands' business (10 per cent each from Malaysia, Indonesia and Thailand; and 8 per cent from Vietnam). China will account for about 6 per cent of its business.
Adelson added: "Asia could use 5 or 10 Las Vegases fully built out with 140,000 rooms each. That would give you from 700,000 to 1.4 million rooms for destination resorts for people all over Asia to go to. And in my opinion, you will never saturate the market.