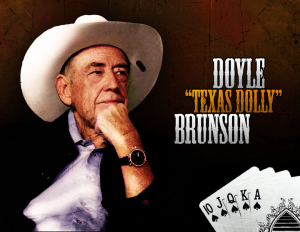 Poker master Doyle Brunson, sometimes known as "Texas Dolly", is one of the most fearsome players the game has ever seen. Brunson has played poker professionally for more than 50 years, and he is very, very good at what he does. He's netted over $5.8 million in tournament wins during his career, and is the proud owner of 10 WSOP bracelets. These are things that every poker fan knows – but who is the man behind the cards?
Brunson is a Texas native, born in Longsworth on August 10, 1933. He was a runner, a basketball star, and an all-around excellent athlete. In fact, he was nearly drafted by the Minneapolis Lakers until a knee injury put him in a cast for two years, ended his basketball career.
His interest in poker started early on. He began with five card stud, and he the game was easy – Brunson is a born natural, some say. Before long, he was traveling around Texas, then eventually the neighboring states of Oklahoma and Louisiana, playing poker in illegal, underground games. He saved up his wins, and headed to Vegas – where he lost everything.
This didn't stop him though. Brunson caught the gambling bug, and decided to settle down in Vegas. He played more and more, and was a regular participant in the WSOP, which saw its first game in 1970. By the late 70s, he had made a name for himself in the poker world, netting win after win and accumulating quite a lot of wealth.
Brunson got the nickname "Texas Dolly" when Jimmy Snyder's tongue slipped one day. Snyder was supposed to introduce Brunson as "Texas Doyle" but somehow it came out "Dolly" instead. The crowed loved it, and the name stuck. Even today when Brunson plays online poker he uses the alias 'texdolly'.
Brunson is still a poker master. He has published numerous books about his career and about poker strategy, and spends much of his time promoting the famous Doyle's Room online poker site at events all around the world.
Here are a few interesting facts about the Texas Dolly that not all poker fans know:
A "Doyle Brunson" is a 10-2 starting hand in Texas Hold Em. It's called this because Bruson won the WSOP with this hand – twice!
Brunson has played so much poker, he has seen three men die at the table. One was shot point-blank in the head, and the other two died of heart attacks, one from the shock of losing a huge pot to the Texas Dolly.
In the early 60s, Brunson was diagnosed with "incurable" cancer after a tumor was found on his neck. Doctors call his recovery a miracle.
Brunson's son Tom won a bracelet in Omaha Hi-Lo at the 2005 WSOP, making the Brunsons the first father-son World Series winners.
"I'm a gambler," says Brunson. "I'll always be one. I couldn't be anything else. So, my life will always be full of wins and losses. I wouldn't have it any other way. It's exciting. There's never been a dull moment in my life."