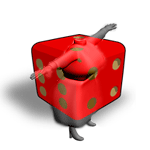 Despite the relatively lenient laws regarding gambling in South Africa, there's still a whole lot of activity going on in the nations black market. A surprising arrest was made this week of a family of four, including the grandmother at 65 years of age.
Sowetan: Granny bust for drugs and racketeering
A family of 4, including a 65- year-old grandmother, was arrested for racketeering, illegal gambling and drug dealing. Police pounced on the elderly woman, her 48-year-old son and his wife of 46 and their 26-year-old son at their Eldorado Park home in the morning yesterday.
The Directorate for Priority Crime Investigations's spokesperson, Captain Paul Ramaloko, said: "The SAPS's West Rand organised crime unit, in conjunction with the crime intelligence, West Rand dog unit and the rapid response (unit), supported by the South African Revenue Service and the Asset Forfeiture Unit arrested the four for racketeering and dealing in drugs."
The arrests were made after two warrants – one for search and seizure and another for arrest – were obtained from the Protea magistrate's court .
Though all of the arrested were unemployed, the family members had thousands of rands in their bank accounts. "A further allegation is that they are operating an illegal gambling business in their Eldorado Park home," said Ramaloko.
Ramaloko said all their assets would be attached soon.
The family members were detained at the Krugersdorp police station and were expected to appear in the Protea magistrate's court tomorrow.
The Citizen: Family of four arrested for gambling business
According to the authorities, an elderly woman, her two sons and daughter-in-law were arrested on Wednesday for running an illegal gambling business and drug dealing in their Johannesburg home.
The family of four was allegedly part of a syndicate dealing in drugs in the Eldorado Park and Westbury areas, Captain Paul Ramaloko said. They were arrested at their home in Eldorado Park at 10am in a joint operation by police, the South African Revenue Service and the Asset Forfeiture Unit.
The elderly woman, 65, her two sons, 48 and 26 and her daughter-in-law 46 would face charges of drug dealing and racketeering in the Protea Magistrate's Court on Friday.
The Times Live: Granny and kids on drugs charges
An Eldorado Park granny and three members of her family were arrested for drug dealing yesterday.
The South African Revenue Service and the police's asset forfeiture unit investigated the family when they discovered large amounts of money in their bank accounts. This was suspicious because the woman, 65, her son, her daughter-in-law and her 26-year-old grandson, are all unemployed.
Hawks spokesman Capt Paul Ramaloko said the family might also have been "operating an illegal gambling business" from their home.