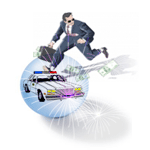 Police have shut down a pair of illegal internet gambling websites that are said to have been generating a turnover of $50,000 daily. One man, a recruiting agent, was arrested and several pieces of evidence were taken from his home. It is believed that the administrator of the sites fled the country, but police are hoping they will find enough evidence to track him down.
Antara News Indonesia: Police arrest int`l gambling syndicate agent
Jakarta police have arrested an agent of an international online gambling group operating illegally out of Indonesia. Authorities say he was earning as much as Rp15 billion (almost $2 million) per month from the business.
"As an agent the suspect`s turnover reaches Rp500 million a day. The police are still searching his boss abroad," said Jakarta Metropolitan Police spokesman Senior Commissioner Boy Rafli Amar.
Boy said police have been investigation the gambling operation for the past month. The suspect was involved in operating two unlicensed gambling sites, offering casino games like roulette, baccarat, and poker, along with limited sports betting facilities.
The suspect admitted to working as an agent for the gambling, receiving a monthly salary of Rp7.5 ($1 million). Police are now examining bank statements and other documents in hopes of tracking down the leader of the operation.
During the raid, police confiscated a laptop, a book of financial records, four mobile phones, bank documents, and Rp495 million ($50,000) in cash. The two gambling websites have since been shut down.
Tempo Interactive: Jakarta Police Crack Down Online Gambling Sites
Jakarta police just cracked down two illegal internet gambling websites operating out of Jakarta, offering several different types of gambling and bringing in a daily turnover of around Rp500 million.
A spokesperson for Jakarta Police Senior Commissioner Boy Rafli Amar said in a press conference on Tuesday that two men were arrested at a house in the Villa Kapuk Mas complex, which police have been watching in a stakeout since early April.
One of the men arrested were an agent for the gambling site, and the other was a player. Evidence taken from the house included a laptop, transaction notes, bank, and Rp495 million.
It is believed that the actual administrators of the websites have fled overseas.
The Jakarta Post: Police bust suspects in online betting
Police in Jakarta announced on Tuesday that they had arrested a man suspected of helping to operate two illegal online gambling sites that were generating daily revenues of Rp 500 million (US$55,500).
City Police spokesman Sr. Comr. Boy Rafli Amar said the suspect, who they are calling 'Benny', worked as an agent, bringing new customers to gamble at the websites. The sites provided a wide range of online gambling options, including online sports betting, roulette and poker games.
"However, the owner of the sites has apparently managed to escape overseas," Boy told reporters.