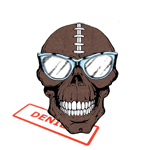 Legislation is being pushed all over the United States in favor of all kinds of gambling in order to raise state revenues. Delaware is one state currently in hot pursuit of the industry, but a recent bid for sports gambling was just rejected by the U.S. Supreme Court.
Bloomberg Business Week: Delaware Sports Gambling Bid Rejected by High Court
The U.S. Supreme Court refused to give Delaware broader authority to sponsor sports gambling, and left intact a ruling that allows multi-game bets on National Football League contests while barring other wagers.
The justices rejected an appeal by Delaware Governor Jack Markell, whose state is 1 of just 4 that can offer sports gambling under a 1992 federal law. The rebuff means Delaware can only offer 1 aspect of its sports-wagering plan — parlay betting on 3 or more NFL games. Markell wanted to offer single-game betting as well as wagering on other sports.
Nevada is the only state that allows widespread sports gambling.
The Assosciated Press: High court turns down Delaware over sports betting
The U.S. Supreme Court rejected a Delaware appeal which sought to expand its sports betting lottery beyond professional football on Monday. Justices denied Delaware's petition for judicial review without comment, and left limits on sports betting in Delaware to multi-game, or parlay, bets on NFL games.
The court declared that the state's new sports betting lottery must be similar to the betting scheme used in a failed 1976 NFL lottery which allowed Delaware to be 1 of only 4 states to receive exemptions from the federal ban.
Despite losing the appeal, Delaware still maintains a competitive gambling advantage over neighboring states by being the only state east of the Rocky Mountains in which wagering on the NFL is legal.
Reuters: Supreme court rejects Delaware sports betting appeal
The Supreme Court on Monday rejected a Delaware appeal that argued the state should be allowed to offer a new sports betting lottery to generate revenue to help ease its record budget deficit. The justices let stand a 1992 federal ruling by a U.S. appeals court that prohibits Delaware from offering betting on individual games in all major sports, without comment.
The North American professional leagues for baseball, basketball, football and hockey and the National Collegiate Athletic Association (NCAA) all argued that Delaware's sports lottery plan violated the 1992 law.
The Professional and Amateur Sports Protection Act, prohibits betting on sports. Exceptions were granted to Delaware, Nevada, Montana and Oregon because they previously ran sports betting operations.
Delaware had expected at least an estimated $17 million in revenues from the sports betting plan in the 2010 fiscal year to help close the state's budget deficit.
Attorneys for the professional sports leagues and the NCAA told the Supreme Court the appeal should be rejected. They said the estimated $17 million in sports gambling revenue represented a trivial percentage of the state's $3.1 billion budget.