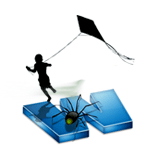 Parents who subscribe to the new 3G wireless internet service offered by Tibboh will have fine-tuned control over what sites their children can access. The ISP has rated billions of websites using the same system that the British Board of Film Classification uses to rate films. Parents can create custom logins for each child, and restrict their net access to age-appropriate sites, keeping them away from adult-oriented websites like online gambling and porn.
Telegraph: New ISP with age ratings for websites launched
Tibboh, a new Internet Service Provider in the UK, consulted the British Board of Film Classification for help in categorizing three billion websites with a new rating system.
Each category of site is assigned its own rating. Social networking sites such as Facebook and MySpace have been rated 12, while online gambling websites and illegal downloading sites are rated 18.
Each internet user has a unique login, and since their age is on file in the system, the internet becomes age-restricted. For example, 12-year-olds will be stopped from accessing websites that are rated 15.
The new system shares a commonality between movie and video game classifications that are standard across the UK.
The system was suggested in a government-commissioned report published in 2008 by Professor Tanya Bryon.
BBC News: Film classification takes to the web
A UK internet service provider will soon offer a web filtering service that uses the same classification system that the film and video game industries provide.
The British Board of Film Classification has teamed up with ISP to create the system. Parents will be able select the level of filtering they require to protect their children, choosing from U, PG, 12, 15 or 18. This will help parents to block sites related to pornography, gambling, and other adult themes.
The ISP, Tibboh, is currently only offering the filter through their 3G mobile internet service. Users who want to implement the filter will need a special dongle, and will be able to register individual profiles for different family members.
There will be a monthly charge of £19.99 for the service, which has a 15 gigabyte data limit.
Thinq.co.uk: Kids' ISP launches with UK censor backing
A mobile internet service provider with a built-in content filtering system has just launched, giving UK parents a way to restrict their kids' internet access to age-appropriate sites.
The £19.99/month service from Tibboh (which is Hobbit spelled backwards) classifies websites using the same system that the British Board of Film Classification (BBFC) uses to rate films – U, PG, 12, 15 and 18.
The system will give parents fine-tuned filtering options than previous blanket filters that block too much.
The BBFC officially supports the project, after Tibboh became the first ISP to use its online membership guidelines.
The filtering system is tamper resistant, and will prevent net-savvy children from changing their profile settings and gaining access to sites their parents wish to block.