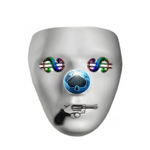 Joeseph Baer, 39, was arrested on Tuesday while playing blackjack at a casino in Atlantic City. Baer was suspected of robbing three banks in Philadelpha during the past week. He has been convicted of robbing banks before, and has a history of gambling. Police suspected he might show up at casinos in the area to gamble away the money he robbed.
ABC News Philadelphia: Serial bank robbery suspect in custody
Joseph Baer, a 39 year old man wanted for robbing three banks in the US state of Pennsylvania last week, is now in police custody. He was spotted around 10:30 a.m. on Tuesday morning at the blackjack tables in the Trump Plaza Casino, where he was apprehended.
Baer is an avid gambler, and police suspected that they would find him in one of the local casinos.
Baer is being charged with robbing approximately $1,000 from the PNC Bank in Philadelphia on April 13th. He is also a suspect in two other bank robberies: one at the Citizens Bank and one at the TruMark Financial Credit Union last Friday.
The FBI says that Baer was also wanted for escaping from a halfway house the day of the PNC Bank robbery.
Philly.com: Bank robbery suspect nabbed at casino
For Joseph Baer, a recent trip to gamble in Atlantic City turned out to be a losing bet.
Baer, who was wanted in connection with three bank robberies that happened last week, was spotted playing blackjack at the Trump Plaza Casino by New Jersey state troopers. The officers took the suspect into custody without incident.
On Monday, Baer was caught on camera robbing a Citizen's Bank branch in Northeast Philadelphia. Last week, he allegedly robbed a different bank in the city's Mayfair section, where he was also caught on security cameras.
Baer was also wanted for escaping from a federal halfway house on the day of the first robbery. He recently served six-year sentence for robbing two banks in 2004, and had been living at the Luzerne Community Corrections Center in North Philadelphia. His caseworker told authorities that he signed out on April 12 to go to work at a McDonalds.
CBS News Philadelphia: Serial Bank Bandit Found In A.C. Casino
A suspected serial bank robber is in custody after police spotted him playing blackjack a casino in Atlantic City on Tuesday morning.
New Jersey State Police detectives detained 39-year-old Joseph Baer on the floor of the Trump Plaza Casino without incident at around 10 a.m.
Baer was wanted for robbing a PNC Bank in Philadelphia on April 13. Security images showed Baer wearing a Donovan McNabb Eagles jersey when he robbed the bank of $1,000 – the images earned him the nickname "McNabb Bandit". Baer's identity came to light with a member of the public recognized him from the photos.
Baer is also suspected of being involved in the robbery of two other area banks that were committed last week.
FBI officials say Baer was convicted of two different bank robberies back in March 2004.