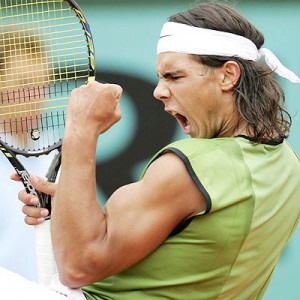 Spanish tennis superstar Rafael Nadal, nicknamed "Rafa", will step out onto the clay today at the 2010 Monte-Carlo Masters, making his debut in the 103rd iteration of this annual event. For the past five years, Nadal has played in this ATP Masters Series tournament, and each of those years, he won first place in the single title. Now he's at it again, battling against last year's finalist Novak Djokovic and wild card entry Andy Murray, hoping to break a world tennis record by grabbing his sixth straight Masters title.
Nadal, 23, is entering this year's Monte-Carlo Masters with a 29-1 career record, and is walking proud with 27 straight wins since he lost to Guillermo Coria in 2003. Today he will be playing his 201st ATP World Tour Masters 1000 match – an astonishing number for a player his age. Nadal stands tall at 6'1", and is a very imposing figure on the court. His aggressive play style and massive forehand make him a formidable player.
He began playing tennis when he was three years old. Right away his uncle Toni, a former tennis pro, recognized the youngster's talent for the game; Toni has been coaching him ever since. Nadal won his first championship when he was eight, which made him work even harder at training and practicing. Around this time, Toni began encouraging him to play left-handed (Nadal is naturally right-handed), a move which would give him an advantage on the court. He still uses this strategy today.
As a teen, Nadal was also an adept football player, and was heavily involved in both sports. His father, concerned about the boy's academic future, forced him to choose just one. Obviously, Nadal chose tennis. The choice paid off, and by the age of 17, Nadal was already ranked among the 50 best tennis players in the world.
His entrance into the pro circuit was met with some criticism – not because of how Nadal played, but because of how he looked. His propensity to wear sleeveless shirts, below-the-knee trousers and a bandana drew endless mocking from the press. One television commenter even joked that he showed up to a game wearing his sister's clothes. Nadal shrugged the jokes off, and went on to play like a champ.
Nadal's career exploded in 2005 when he dominated the spring clay court season, winning 25 consecutive matches and establishing himself as a force to be reckoned with. This year earned him the ATP Most Improved Player of the Year award. By now Nadal was ranked number 5 in the world, making him the youngest player to make it into the Top 10 since Andrei Medvedev in 1993.
The years since have been a battle against injuries forcing off-court time here and there, but overall his path of progress has been a steep climb towards the top. Now, Nadal is confident that he will claim his 6th straight Monte-Carlo Masters title this year. His primary adversary Roger Federer is not playing this year, giving Nadal a good chance of fulfilling his goal. "I've always been a winner", Nadal says in an official press release. "And will soon be one again!"
Whether players favor Nadal or his competition for this year's title, now is the time to put money down. Bettors in France across Europe are advised to use Bet365 Sports, while those in the US should check out Bodog, Brobury Sports or BetUS Sportsbook. Each of these trusted online sportsbooks offers their own odds and lines, players may want to shop around to find a system that most benefits them.