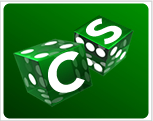 The
eco-friendly
loyalty programme at
CasinoShare
is aimed at rewarding and entertaining you every time you play – all whilst supporting and promoting the Global drive to "Go Green". Every month the casino features a specific go green theme with hints and tips on how to make a difference, as well as PLAY GREEN promotions where everyone's a winner!
It's Kinder to Kindle – 4 Players to win a WIRELESS BOOK READER!
Purchase and Wager 250 credits on any Monday in April and May to qualify
Now you can carry a whole library of 1,500 books on one slim and lightweight reader. Your books will be delivered wirelessly in less than 60 seconds, with no PC required. There are over 450,000 popular books, including 101 of 112 New York Times® Best Sellers, plus U.S. and international newspapers, magazines, and blogs. You can even download and read the first chapters for free before you decide to buy!
Using a Kindle to read rather than buying books is kinder to the environment as each book has a zero footprint on the planet (as no trees need to be cut down). That's why it's Kinder to Kindle!