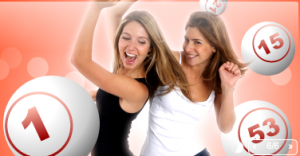 Some people are quick to stereotype the demographic of players who enjoy online bingo in the UK, but is there any truth in the common perception that most internet bingo players are middle-aged housewives, staying their days playing bingo and winning money with their friends?
A BBC news article from December 2008 reports that the average UK housewife spends an astonishing 47% of her time on the internet, a figure that beats students (39%) and even the unemployed (32%). Much of this time was probably spent socializing at networking sites like Facebook, or playing games like online bingo.
These figures helps to establish the fact that housewives spend a lot of their free time online, and there is no doubt that many stay-at-home mums enjoy playing internet bingo games. After all, online bingo in the UK is an intensely social activity, with chat rooms available during all games letting players make friends all over the world, so it's a great way for women to stay in touch when they can't leave the house. But what do these statistics tell us about the reality of the sterotype – the one that says the average online bingo player is a middle-aged housewife?
According to a premium report published by Mintel Market Research in early 2009, the stereotype might have been true at one point in the past, but the picture is definitely beginning to change. The report states that online bingo is shifting towards a younger audience, with 20% of all players now coming from the 18 to 24 age group. The 18 to 45 age bracket accounts for 62% of all bingo players, which means that a full 42% of online bingo players are aged 24 to 45, but times are definitely changing.
There are more than three million active bingo players in the UK – a testament to the popularity of this online pastime. The variety of online bingo services available to players is growing every day. Look here to read reviews of some of the best UK online bingo bonuses, and to find links to help you see for yourself why this form of internet gaming is so incredibly popular.