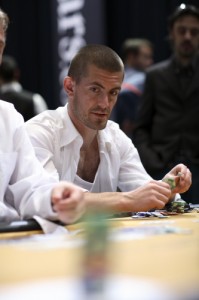 Danish poker star Gustav (Gus) Hansen has had three major love affairs during his life. Their names are Tennis, Backgammon, and Poker. Some of these temptresses have treated him better than others, but to this day, each one holds a special place in his heart.
As a youngster, Hansen was an avid sports fan, and he had a knack for playing tennis. He made a very successful junior athlete, and competed in several major events. Hansen's relationship with tennis faded away after his teenage years, but this old flame never quite died. Unfortunately, their last meeting did not go so well: in July of 2009, Hansen lost a €1.4 million wager he put on Rafael Nadal to win the French Open 2009.
As the years passed, Hansen's love for tennis was replaced by a fascination with the classic board game backgammon. In 2000, he followed his love to New York City, where he hoped to make a living as a professional backgammon player. While his devotion to the game was never shaken, he eventually moved on, looking for bigger and better things. Backgammon, he said, was too small for his tastes.
This brings us to the biggest love of Gus Hansen's life: that irresistible lady called Poker. He met her in the Ocean View Card Room in Santa Cruz, California in the early 90s, while attending college at the local university. It was love at first sight.
Since then, Hansen's relationship with poker has blossomed, and he has gone on to win three World Poker Tour open titles, the 2007 Aussie Millions main event, season one of the Poker Superstars Invitational Tournament, the WPT Bad Boys of Poker invitational, and many other prestigious titles.
Today, Hansen calls himself a "sensible gambler", a title that fits very well. His aggressive playing style and his propensity to throw down pre-flop raises are responsible for a pile of tournament winnings that exceeds $7,500,000. He has even made money while standing on the other side of the table, by founding then selling off a website called pokerchamps.com (Betfair bought it in 2005 for €13 million). Hansen admits to losing nearly as often as he wins, but for him, the game is more important than the end result.
In recent years, Hansen has been spending more and more with a sly gal named Golf, who he sometimes meets on the weekends while Poker is away. He has also been seen with both Squash and Soccer on more than one occasion. But these are just flings, and Poker doesn't seem to mind – she knows that she's still his one true love.