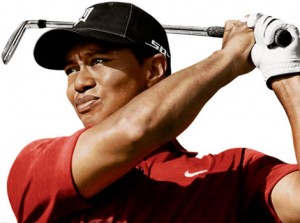 Tiger is not his real name. This golf legend – perhaps the most famous golfer who ever lived – was born Eldrick Tont Woods. The name "Tiger" was given to him as a child by his father, and the nickname stuck with him through adulthood.
Woods' father was a Vietnam vet. His mother was originally from Thailand. Both of his parents had mixed ancestry, making Woods one-quarter Chinese, one-quarter Thai, one-quarter African American, one-eighth Native American, and one-eighth Dutch. To keep things simple, Woods refers to himself as Cablinasian (Caucasian, Black, (American) Indian, and Asian.
In 1978, when Woods was 2 years old, he made his first television golf appearance, putting against showstar Bob Hope on The Mike Douglas Show. Before the year was up, he had won his first golf competition.  At age three, he shot a 48 over nine holes over the Cypress Navy course, and at age five, he appeared in Golf Digest. Woods established himself as a golf prodigy from an early age, and has yet to live down that title.
As a teenager, Woods' career really picked up. He started getting noticed by the likes of Jack Nicklaus, and he was winning more big events than ever before. In 1994, at the age of 19, he moved on from his Junior League career to play in the U.S. Amateur Championship, becoming the youngest winner the event had ever seen.
After high school, Woods attended Stanford University on a golf scholarship. After two years of mixing school and golf, he left university, went pro, and immediately signed a $40 million endorsement deal with Nike – the biggest such deal the golf world had ever seen. Since then, the sponsorship deals have only increased, during Woods into the most marketable athlete the world has ever seen.
Woods has had an impressive pro career. To date, he has won 71 official PGA Tour events including 14 majors. His focus is on raw power, and he is known for his long drives. His short game is also good – his putting skills, especially when he's under pressure, are a sight to behold. Despite his incredible skill he remains cautious in his game – he plays fewer big events than most pros, preferring to spend more time preparing for each one to be sure he plays the best game he can play.
The man's skills have certainly paid off. Last year, Forbes confirmed that Woods is the first male athlete in sports history to earn more than one billion dollars during his career.
Woods has had a bad year, there's no question about that. He's lost many of his most lucrative sponsorships, and his charities have taken a hit. But as of April 2010 Woods back in the game, and he's showing no signs of slowing down. In fact, both Both William Hill and Ladbrokes, two of the largest online sportsbooks, have Woods listed as the 4-1 favorite to win the next Masters. Does he still have what it takes?