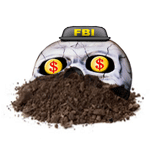 Joe Mastronardo, the son-in-law of the late mayor of Philadelphia has been arrested together with his brother John and charged with conspiracy, gambling and running a corrupt organization, due to an illegal bookkeeping operation that they ran. Over $1 million was dug up by law enforcement in Mastronardo's lawn in a recent raid.
Fox News: Over $1 Million Found In PVC Pipes
More than $1 million cash was recently found buried in the yard of Joe Mastronardo, son-in-law of late Philadelphia mayor Frank Rizzo. County investigators and the FBI spent all Wednesday digging up Mastronardo's the backyard in Abington looking for the hidden cash. Montgomery County DA Risa Ferman and the FBI moved to freeze bank accounts in Tennessee, Pennsylvania and Florida.
Mastronardo and his brother were arrested in a federal bookmaking scheme in 2006. At that point, the brothers agreed to forfeit about $2.7 million dollars as part of a plea agreement.
John and Joseph Mastronardo are being held on $1 million bail each. They've been charged with conspiracy, gambling and running a corrupt organization. Preliminary hearings and bail hearings are set for next week.
ABC News: Pa. brothers charged with running gambling ring
This is the second time in 4 years that Montgomery County authorities have arrested the Mastronardo brothers for running a sports betting operation.
Court documents indicate that most of the evidence that lead to the arrests was gathered on wiretaps, including a conversation in which Joseph Mastronardo discussed NCAA March Madness tournament. Looking for cash taken in from sports bets, and they found more than a million dollars.
In Mastronado's backyard and shrubbery, 4 PVC pipe tubes full of cash and capped at both ends were unearthed. Investigators executed over 46 search warrants yesterday at other homes owned by the Mastronardos. They also seized bank accounts in Florida, Tennessee and offshore.
This is the fourth time the Mastronardo brothers have been arrested on gambling charges since 1983. They forfeited close to $3-million and received probation 4 years ago. Now, they are being held without bail for violating the terms of their probation and are looking at long jail terms.
CBS News: Abington Yard Searched In Money Laundering Probe
The FBI, along with county investigators, dug up the yard of a Montgomery County mansion Wednesday as part of an alleged money laundering investigation. Eyewitnesses in the neighborhood of million dollar homes claim that they saw the FBI uncover what appeared to be bags of cash.
Sources also told Eyewitness News that the home belongs to Joe Mastronardo, who is the son-in-law of the late Philadelphia Mayor Frank Rizzo. Mastronardo is currently in the Montgomery County Correctional Facility for violating probation. He was convicted of bookmaking in 2006. He is being held on $1 million bail.