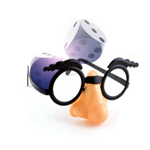 It's April Fool's day, and internet gambling sites across the net are taking advantage of this opportunity to have a little fun. We've been watching the news all day long, and have compiled a list of the wildest and wackiest April Fool's pranks that different internet casinos have pulled this year.
Golden Tiger Casino: Get a free tiger!
Golden Tiger Casino, in celebration of the Chinese Year of the Tiger, is offering an unbelievable promotion this week. Anyone who creates a new casino account will not only receive a generous $1500 welcome bonus, but they will also be entered into a drawing to receive a real live Bengal tiger!
There are 15 tigers ready to be given away. Winners will have the tiger delivered to their home. Casino staff urge winners to keep their refrigerators well-stocked, because the tiger will probably be hungry after its long journey!
Blue Square Casino: Sir Geoff Hurst Makes A Shocking Revelation!
Sir Geoff Hurst, famous for scoring a hat trick in England's 1966 World Cup Final, came out to the world today with a controversial confession: his second goal, he says, 'did not cross the line'.
Goeff spoke today at a press conference to announce his new partnership with Blue Square's online sports betting site as they renew their sponsorship deal with the conference league. The league will be changing its name to the Blue Square Bet Premier League.
32Red: Roulette Wheel Rotation at 32Red
Because of a recent change to 32Red's Gaming Licence Terms and Conditions, the casino is now required adjust the rotational direction of the roulette wheels used at casinos operated by 32Red Plc.
Due to the Coriolis effect on the earth's rotation, players who live in the Southern Hemisphere will see the wheels spin anti-clockwise, while players in the Northern Hemisphere will experience a clockwise spin. The outcome of spins will remain entirely random regardless of the direction of rotation, so players will not experience any difference in gameplay.
If a player feels that the roulette wheel wheel is spinning in the wrong direction according to their geographic location, they should immediately 32Red so that the problem can be rectified.