: Use of undefined constant renderBlock - assumed 'renderBlock' (this will throw an Error in a future version of PHP) in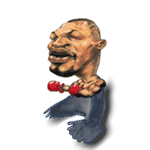 Animal rights group PETA has its feathers fluffed about an upcoming Animal Planet TV show about pigeon racing. The show is to be hosted by boxing champ Mike Tyson, and will follow him as he pits his pet pigeons against professional racing birds. PETA says the show is cruel to animals, and is worried that it will promote illegal gambling.
The Daily Telegraph (Sydney): PETA alleges illegal gambling on Mike Tyson's pigeon racing TV reality show
Mike Tyson has a new "pigeon racing" reality TV show in the works, but before the show has even gone on the air, it is already under investigation over accusations of illegal gambling.
The retired champion boxer is a life-long pigeon lover. His new show, called Take on Tyson, is scheduled to air on Animal Planet. It is a show about bird racing, and it pits Tyson and his trained birds against the best racing pigeons in New York.
The animal rights group PETA (People for the Ethical Treatment of Animals) is displeased. They are accusing the show of violating New York gambling laws, because the show stands to profit from animal racing.
The District Attorney in Brooklyn (where the show is filmed) is investigating PETA's claims. Animal Planet has claimed that there would be no gambling on the show, but a representative for PETA retorted by pointing out that making any money (including Tyson's salary) off animal racing is clearly illegal.
USA Today: PETA feathers ruffled by Mike Tyson NY pigeon show
An animal welfare group is asking New York City prosecutors to investigate boxing star Mike Tyson's upcoming reality tv show about pigeon racing.
PETA (People for the Ethical Treatment of Animals) argues that the show, which has yet to air, is cruel to animals. They also argue that races are likely to involve or promote illegal gambling.
The new show, which is expected to air next year on Animal Planet, will follow Tyson as he competes in pigeon races across New York. The former world heavyweight champion has raised pigeons all his life, but is not experienced racing them.
PETA sent a letter on March 18 to the Brooklyn district attorney's office requesting that an investigation be opened. Jonah Bruno, district attorney spokesman, says they are looking into the matter.
NY Daily News: PETA fights to put a stop on Mike Tyson's new Animal Planet reality show featuring pigeon racing
Animal rights activists are upset about boxing champ Mike Tyson's plans to host a reality TV show about "the intensely competitive and bizarrely fascinating world of pigeon racing."
PETA (People for the Ethical Treatment of Animals) wants New York prosecutors to shut down the new Animal Planet show, "Taking on Tyson," which will show Tyson racing his birds against other New York pigeons. PETA says the show exploits pigeons and glorifies an abusive sport.
The show might also run into trouble with New York's anti-gambling laws.
"Pigeon racing as an industry involves gambling. That's why people do it, to make money," said PETA general counsel Jeffrey Kerr.
PETA thinks it is likely that wagers would be made over the outcome of races featured on the show.
He insisted District Attorney Charles Hynes should probe the Brooklyn-based show and "make sure the production is not allowed to go forward if illegal activity is going to take place."
Jonah Bruno, a spokesman for the Brooklyn District Attorney's offer, said that they received PETA's complaint and are looking into the matter.
Tyson claims to have raised pigeons all his life, but he never raced them competitively before.
"We love these birds," Tyson said. "It feels good returning to the rooftops of the city where it all started for me."