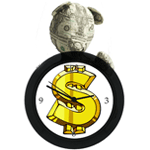 Brick and Mortar gambling has become a hot issue in the state of Indiana and a few different bills are currently in writing or have recently been voted on. Most notable was a proposal to allow floating casinos to move inland, but there's also been legislation indicating that parents must give gambling profits to their kids.
Fox News: Staying wet: Casinos not allowed to move inland
An amendment in the Indiana House that would have allowed the area's floating casinos to move inland was defeated, and the issue appears dead. Representatives voted 57-42 Tuesday and shot down the amendment to a broader Senate casino bill. The bill was pulled from further consideration in the House.
The deadline for Senate bills to be amended in the House is Wednesday and the bill could be reconsidered by then, but the bill's sponsor, Democratic Rep. Bill Crawford has no such intentions for it.
Rep. Crawford was angered that amendments to boost Indiana's "racinos" won support but not the inland casino language that was aimed primarily at helping riverboats in Gary, Hammond and East Chicago.
WBIC News 93.1 FM: Inland Casino Bill Rejected
Indiana's House has voted against amending a gaming bill to allow existing riverboat casinos to convert to land-based operations. The gambling industry and individual casinos struggling to compete with growing operations in neighboring states were split by the issue.
Rep. Matt Bell argued that the amendment would protect an established industry in Indiana from outside competition. He said, "It can be an important part of making our properties competitive, so they can attract individual investment into the state."
Rep. Mike Murphy, on the other hand, countered that casinos are asking for special treatment, saying: "They don't want to be treated like a business. They want to be treated like a monopoly." The point that the gambling industry contributes millions of dollars to the state economy while creating thousands of jobs was argued by Rep. Charlie Brown.
A legislative summer study on gambling indicated that the state could lose over $100 million in gambling tax revenue if it disregards Ohio casinos, which were authorized by voters in November.
The Assosciated Press: Indiana House Backs Taking Deadbeat Parents' Winnings
The Indiana House recently passed a bill that would require gambling parents who hit big slot machine jackpots at casinos to give winnings to their children.
The bill was approved unanimously and would withhold gambling winnings from parents who are behind on child support payments. It all makes sense in a state where just 58% of child support payments are collected.
Over 165,000 non-custodial parents owe more than $2,000 for back child support in more than $2 billion of delinquencies. The withholdings would generally kick in on slot machine winnings of $1,200 or more. The bill must return to the Senate for consideration of changes the House made.