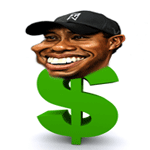 Golfer Tiger Woods, who has been in the limelight in recent months because of a scandal surrounding his personal life, has turned down a lucrative sponsorship offer from Paddy Power, Ireland's biggest bookmaker. Woods has lost many of his biggest sponsors in recent months. Paddy Power intends to turn around with an even better offer.
New York Times: Woods Turns Down Paddy Power Sponsorship Offer
Golfer Tiger Woods turned down a five year, $75 million sponsorship offer from the Irish online sportsbook Paddy Power. Upon being rejected, Paddy Power announced intentions to an improved offer.
Woods has been losing sponsors lately. The 14-times major champion winner lost his deal with sports drink brand Gatorade last week. Gatorade was the third major corporate sponsor to dump Woods since details of his inappropriate conduct hit the newsstands last year.
The golf star was earning $100 million in endorsement deals annually before taking a break from golf in December. Woods has not said when he intends to return to the sport when he spoke to media last month. He has remained very quiet since the scandal over his private life erupted in December.
During last year's U.S. PGA Championship, Paddy Power lost 1.5 million euros to bettors who had gambled on Woods after just 36 holes, even though Woods lost to South Korea's Yang Yong-eun at the end of the event.
Market Watch: Woods turns down $75 million sponsorship offer
Paddy Power, a publicly traded internet sports betting company in Ireland, offered Tiger Woods' representatives a $75 million sponsorship deal over the next five years.
Woods turned down the offer. The company said it "remains keen" to strike a deal, and intends make an "enhanced" offer to secure the deal.
Woods has lost many of his endorsements in the last few months, including Accenture and Gatorade, ever since he admitted to having multiple affairs.
Procter & Gamble's Gillette has kept Woods' contract alive, might not use Woods in any more ads. Nike and Electronic Arts also continue to honor their contracts.
Woods has publically apologized for his recent actions, but has not said when he will begin golfing again.
Paddy Power has a history of spending on its message: Marketing expenses were nearly 29 million euros in 2009, while recorded profits were around 58 million euros.
Business Week: Paddy Power to Raise Woods Offer After Bid Rejected
Paddy Power, Ireland's biggest sportsbook, intends will increase its sponsorship offer to Tiger Woods after their previous bid of $75 million over five years was rejected by the golfer.
"Paddy Power remains keen to work with Tiger Woods, and will re-engage" said the Dublin-based group. "An enhanced offer will be made."
"Tiger as a brand is up there with Coca-Cola and Pepsi. It's something we are quite serious about." The new offer will be "somewhat more generous," he said.
Woods, who is a 14-time major-tournament winner, recently lost his sponsorship deals with Accenture Plc and AT&T Inc. These contracts were broken after Woods admitted to being unfaithful to his wife, and announcing that he intended to take indefinite break from playing golf.