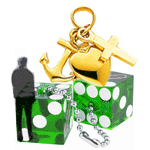 Five men in the US state if Indiana face felony charges for operating what they called a charity casino. The proceeds from the games they offered were supposed to go to a local learning center, but instead went into the pockets of the operators and the men they hired to act as dealers.
News Sentinel: 5 face charges in 'Poker Palace' probe
The Indiana Gaming Commission has been keeping an eye on the Parnell Poker Palace since it opened back in 2008. After months of investigation, criminal charges have been filed against its owners and organizers who face three gambling-related felony charges, including conspiracy to commit unlawful charity gaming contracting.
Parnell Poker Palace is legally licensed as a nonprofit gambling operation. They offer games like blackjack, poker, dice games and roulette, and have always claimed to donate all their proceeds to the local White's School of the Arts, a nonprofit group that helps troubled inner-city kids.
The establishment grossed $100,000 every month, but it was recently learned that deposits meant for the charity were actually being placed into a personal bank account. Quick action was taken to put a stop to the operation.
Journal Gazette: 5 men face felonies in charity-run casino hall
In the US state of Indiana, five men face multiple felony charges for operating a now-defunct charity gambling casino.
The case revolves around Ralph White, 54, who runs White's School of the Arts Community Development Programs. It is a non-profit organization that offers 24-hour day care and educational programs for around 90 children in the town of Fort Wayne. White is also listed as an operator of Parnell Poker Palace and Casino, which offered poker, craps, roulette and blackjack three days a week from noon to 3 a.m.
While Parnell Poker Palace was legally licensed, it is now clear that its operation broke several laws. White and his partners hired dealers and pit bosses and paid them cash, which is against state laws since the casino was listed as a charity organization. They also enlisted "investors" to help finance the gambling den, and then split the revenue between themselves and White's School of the Arts. According to state officials, however, White's School of the Arts never filed a charity gaming report.
As it turns out, Poker Palace proceeds were deposited into White's personal bank account, even though the money was supposedly being donated to White's School of the Arts.
The Indiana Gaming Commission investigated the case.
Indiana News Center: Criminal Case Filed Against Former Parnell Poker Palace
Three men in Fort Wayne, Indiana, face criminal charges related to a charity gambling center that state officials say operated outside the law.
The building that is now home to a bar called Rick O'Shay's used to house the Parnell Poker Palace.
The gambling center was run by Larry York, Charles Keller, George Kotsopoulos, Ed Miers and Ralph White. All are now being accused of illegally profiting from poker, blackjack, and other gambling activities at facility.
Court papers detail their crimes. Dealers and pit bosses were hired as volunteers, but were in fact being paid thousands of dollars under the table.
Larry Rollins of the Indiana Gaming Commission said, "When people then decide that they can profit for themselves by conducting charity events, that's when it really crosses the line."
The men face several felony charges including promotion of professional gambling, unlawful charity gaming contracting and corrupt business influence.