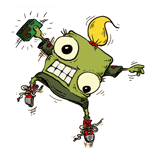 A former Girl Scouts troop leader from Minnesota has been charged for stealing the money that little girls worked hard to earn in the annual cookie sale. In total, Joleen Marie Hopkins admitted to stealing a total of $5,000 dollars in order to gamble among other things. Records, however, indicate that she stole upwards of $8,214.22.
Minneapolis – St. Paul Star Tribune: Charges: Ex-Girl Scout leader's hand in cookie jar
A Mendota Heights woman, Joleen M. Hopkins, was charged with stealing about $8,200 from local Girl Scouts while she was a Scout leader. She was charged in Dakota County with 2 felony counts of theft by swindle and 4 counts of theft (one felony, one gross misdemeanor and two misdemeanors).
Hopkins wrote checks on Scout bank accounts in 2008 and 2009 and spent money at casinos, restaurants, grocery stores and gas stations. Nearly $4,000 was stolen from the Mendota Heights troop's cookie sales. Hopkins 3 daughters belong to the troop from which she stole.
The chapter now requires criminal background checks on volunteers, which was not the case when Hopkins became leader. Last week in Washington County, someone entered the garage of a Lakeland home and made off with 407 boxes of cookies. No arrests have been made.
Fox News: Girl Scouts Troop Leader Admits Stealing Cookie Money
A former Girls Scouts troop leader from Mendota Heights, Minnesota; Joleen Marie Hopkins, was charged for swindling money from the troop's annual cookie sale to pay bills, gamble and buy sports equipment.
Hopkins was charged with 2 felony counts of theft-by-swindle and 4 counts of theft, including 1 felony theft charge. The charges stem from the alleged theft of proceeds from Girl Scouts cookie sales in March 2009.
Hopkins' husband was the troop cookie manager. The Hopkins were responsible for collecting cash from troop cookie sales and depositing the cash and checks into a troop bank account. Chapter documents show the troop collected $8,515.50 in 2009 cookie sales. A total of $1,459.80 should've been deposited into the troop checking account and $7,055.70 should have been deposited to the chapter account. Records show $781.20 was deposited into the troop account and $6,271 was deposited into the chapter account.
Of the $6,271 deposited to the chapter account, Hopkins wrote 6 personal and business checks totaling $2,150.50, which were returned unpaid to the chapter as "unable to locate account." The police traced those checks to accounts that were closed in 2006 and 2007 due to large dollar overdrafts made by Hopkins.
Hopkins eventually depleted the account to a balance of $15. Investigation revealed that Hopkins had spent more than $3,000 at casinos, auto part stores, restaurants, gas stations, grocery stores and businesses in Wisconsin.
ABC News: Troop leader accused of stealing scouts' dough
A Twin Cities Girl Scout leader was charged with theft for allegedly stealing thousands in proceeds from her troop's cookie sales. Joleen Hopkins, 54, of Mendota Heights, took over $8,000 between 2008 and 2009.
The criminal complaint states that Hopkins' husband was the cookie manager for her girl scout troop. He has not been charged. Hopkins was charged with six theft charges, including three felonies. Hopkins, who also used the name Joleen Tillman, pleaded guilty in 2009 to stealing food stamps back in 2007.
She was sentenced to two years probation and ordered to pay more than $700 in restitution.