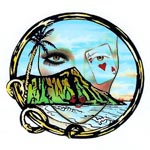 A proposal to allow gambling on the popular tourist destination was rejected by local lawmakers and will not progress past this stage. Had the proposal been passed, the state may have been able to raise up to $86 million per year in gambling revenue. The state is currently expected to face a $1.2 billion deficit.
Los Angeles Times: No dice: Lawmakers in Hawaii kill proposals for casino in Waikiki or on Hawaiian lands
According to a recent decision on the part of lawmakers, the sunny isles of Hawaii will not be seeing gambling any time soon. The bill that came under fire would have allowed a casino in the tourist center Waikiki. There will not be a vote on a second measure allowing gambling on Hawaiian home lands.
Public testimony on the gambling measures was overwhelmingly negative, leading the House Finance Committee to scuttle the idea Wednesday night. Hawaii and Utah are the only states that don't permit any form of gambling and Hawaii's population seems particularly passionate about keeping it out.
Gambling interests pitched casinos as a way to help rejuvenate the state's vital tourism industry. In addition, casinos would allegedly bring $86 million a year in tax revenue to the state which is currently facing a projected $1.2 billion deficit.
Opponents of the bill argued that a casino would eat up tourist money, tarnish the state's family-friendly image and increase crime.
The New York Times: Hawaii: Lawmakers Say No to Casinos
On Wednesday state legislators killed a bill that would have allowed a casino on the tourist filled island of Waikiki, Hawaii. A second measure allowing gambling on Hawaiian homelands will not get a vote after the House Finance Committee scuttled the idea.
Knowing that the state is facing a ghastly $1.2 billion deficit, gambling interests pitched casinos as a way to help rejuvenate the tourism industry. They also claimed that casinos would bring $86 million a year in tax revenue to a state. Opponents cited a decrease in tourist money, and the tarnishing of the state's family-friendly image along with increase crime as reasons to keep casinos out.
Star Bulletin: Lawmakers fold their hand on casino bill
Overwhelming public opposition killed a push to establish gambling in Honolulu last Wednesday. State House Finance Chairman Marcus Oshiro said a move to legalize casino gambling is dead in the water in the Hawaii Legislature this session.
The Committee on Finance rejected a casino gambling bill yesterday after public testimony proved to be against the idea overwhelmingly.
Due to Hawaii's current economic downturn, the committee held a public hearing on the bill, calling for a 5-year casino license to a gambling operation in Honolulu and creating a wagering tax. John Radcliffe, gambling interests lobbyist, said one casino in Waikiki could generate $522 million in income.
In addition to the Honolulu Police Department, the Honolulu Prosecutor's and state Attorney General's offices opposed the bill.
Opponents to the bill made claims that the allegedly inevitable rise in crime would outweigh the benefits of gambling. They also said that legalizing gambling would send the wrong message to Hawaii's children.