: Use of undefined constant renderBlock - assumed 'renderBlock' (this will throw an Error in a future version of PHP) in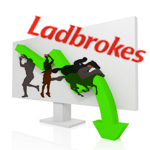 Ladbrokes, one of the UK's largest , reported a 28% fall in profits for 2009 over the previous year. They blame the economic climate which kept punters from betting, and the unusually snowy winter which kept bettors from heading out to the 2,700 betting shops that Ladbrokes operates across the UK.
The Wall Street Journal: Ladbrokes's Net Tumbles
The UK gambling company Ladbrokes PLC reported a significant drop in 2009 profits amid the economic downturn.
The sportsbook reported last year's net profit down 63% to £74.4 million from £200.7 million in 2008. Revenue fell 10% to £1.032 billion.
Revenue suffered from winter weather, with snow and ice across the UK keeping customers at home. Another contributing factor was a strange year for the Premier League, which saw fewer draws in matches than usual. Draws are a bookmaker's secret weapon, as most bettors wager on one team to win.
Chief Executive Officer Chris Bell says they are putting their hopes on the soccer World Cup in South Africa this summer. "Far from me to make the prediction that the World Cup will balance the economy … But it's a huge tournament."
Ladbrokes is watching carefully for changes to US gambling laws. "We are prepared," Bell said.
BBC: Ladbrokes profits hit by recession
UK sportsbook Ladbrokes blames the economy for a 28% fall in profits for 2009. Last year it made £191.3m ($301.5m), down from the £265.6m it made in 2008.
Sales in the UK fell by 28%, as bettors cut back on spending in the recession.
The company says the football World Cup this summer is a good opportunity to increase profits and attract new customers.
Ladbrokes also hopes to increase profits through the upcoming launch of a new spread betting service, which will let punters to bet on stock markets, shares and currencies.
The company's chairman Peter Erskine admits "2009 was a challenging year for Ladbrokes."
"We were impacted by the deteriorating economic environment… however, Ladbrokes continues to be a profitable and cash generative business."
The New York Times: Ladbrokes Profits Slump
Britain's largest sportsbook Ladbrokes reported a 28% drop in last year's pretax profits. The figure reflects recent economic conditions and bettor-friendly results hitting margins during the third quarter.
The company, which has operates more than 2,700 betting shops across the UK, said their 2009 pretax profits fell from 265.6 million in 2008 to just 191.3 million pounds.
The figures are still ahead average forecast for pretax profit, which stood at 166 million pounds according to a Thomson Reuters I/B/E/S poll of 19 analysts. Ladbrokes is also facing the loss of CEO Chris Bell who will step down in early summer, and are currently looking for a replacement.
Shares in Ladbrokes closed last week at 151.9 pence, valuing the business at 1.4 billion pounds.