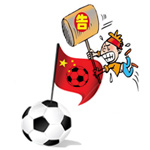 Match fixing and bribing the referees are among the charges laid against two of China's Super League teams. As a result, the teams are being punished and relegated. Players, officials and a soccer boss are reported to have been involved in the scandal.
BBC News: Two football teams relegated from China's Super League
China's Football Association has decided to relegate 2 teams from the Super League to its 2nd division in a corruption scandal. According to official Chinese media, the teams were accused of being involved in match-fixing and gambling. The Chengdu Blades, one of the relegated teams, is owned by Sheffield United.
Sheffield United bought a majority stake in Chengdu Blades in 2006, hoping to develop football in China and unearth new talent. The team was promoted to China's Super League the following season and became a powerhouse in Chinese football.
Chengdu will be relegated as punishment for alleged match-fixing. The club allegedly bribed an opposing team to lose a crucial game and ensure Chengdu's elevation to the top flight.
The Team's chairman, Xu Hongtao, and his deputy have already been detained as part of a widening crackdown on corruption in football. Twenty senior officials and players were allegedly involved, including the former head of China's Football Association, Nan Yong. Police and tax investigators say players and refs have been bribed to throw games and some players paid up to $15,500 for a place in the national squad.
The Canadian Press: Two top-level Chinese football clubs relegated over match fixing, gambling allegations
Two Chinese Super League clubs have been relegated to the 2nd tier amid a match fixing and gambling scandal that's already toppled the head of the country's soccer association. Guangzhou GPC and the Chengdu Blades were removed from the Chinese Super League after an investigation led officials to believe they were involved in match-fixing.
Charges against those involved in the scandal include match fixing, bribing referees, players paying for places at the national team's training camp and play time in international competition.
The relegations were the harshest punishment dealt out to clubs to this date. People caught up in the sweeping probe that has netted more than a dozen players and officials, including former soccer boss Nan Yong.
Two new teams will be announced and introduced into the Super League to keep the total number of teams at 16.
The New York Times: Two Top Chinese Clubs Relegated For Matchfixing
Two top-flight Chinese soccer clubs were relegated to the 2nd division after club officials were found guilty of matchfixing and gambling, according to the state media. The Chinese Football Association's disciplinary committee decided to relegate Guangzhou GPC and the Chengdu Blades.
The president of Chengdu, owned by English Championship side Sheffield United, was arrested last month in an investigation into matchfixing which has seen more than 20 officials arrested or detained, including the CFA's former chief Nan Yong.
The CFA said 16 teams would still play in this year's Chinese Super League season, though replacements haven't been named yet. The season will kick off on the 20th of March, but ongoing police investigations could disrupt those plans.