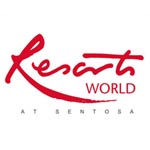 Singapore's first casino opened its doors to the public on Sunday. It targets foreigners, who are exempt from paying the steep entrance fee levied on locals. The casino is part of a massive resort that also includes a Universal Studios theme park, plus several hotels and restaurants.
The Washington Post: Singapore's first casino opens on Chinese New Year
Singapore's first casino opened on Sunday as part of a plan to increase tourism revenue. The day was Lunar New Year, an important day on the Chinese calendar.
The new Resorts World Sentosa was built by a unit of Malaysia's Genting Group at a cost of $4.7 billion. It is in fact the first of two new casinos that hope to transform Singapore's current reputation as a manufacturing and banking centre.
Genting's Singapore resort is more than just a casino. It also houses a Universal Studios theme park, plus several hotels and large convention centre.
The facility is on Sentosa island, and its opening marks the end of the government's longstanding opposition to gambling. It will, however, remain quite strict. An admission fee equal to about $70 is required of all guests, as part a government campaign against gambling addiction. Further restrictions include a bar on entry to anyone under 21, a ban on bank cash machines on the casino floor and a blacklist of gamblers with known addiction problems.
During the opening ceremony, Genting Group chairman Lim Kok Thay made a statement alluding to possible US expansion. "Going forward, we are actively looking at the U.S. because the last financial crisis has brought some pain, but at the same time we see great opportunities there, in terms of buying into existing resorts that (are) down on their luck."
Bloomberg: Genting Opens Singapore's First Casino, Plans U.S. Expansion
Genting Bhd. opened Singapore's first casino on Sunday as Lunar New Year celebrations began. Chairman Lim Kok Thay said the group may also expand operations to the U.S.
"We are actively looking at the U.S. and we see great opportunities," Lim told during the opening ceremony. "Singapore's project would be a good model for our future investments going forward."
The new $4.7 billion Resorts World Sentosa casino houses 530 tables, 1,300 slot machines, and a 12-table poker room. The resort also includes an adjoining Universal Studios theme park.
"We will be the most exciting gaming resort in the world," Lim said.
Genting, Asia's largest publicly traded gambling operator, opened the casino in the wake of a global financial crisis that began in 2008. It will be followed by Las Vegas Sands Corp.'s $5.5 billion casino complex in Singapore later this year.
Singapore's new casinos are expected to encourage economic growth this. The country hopes to attract 17 million visitors and triple annual tourism revenue to S$30 billion by 2015.
NPR: Singapore Tries Luring Foreigners As Casino Opens
Many foreigners and a few Singaporeans flocked to card tables and slot machines Sunday at 12:18 p.m. — the lucky hour when Singapore opened the doors of its first casino.
Singapore is banking on the Resorts World Sentosa to lure tourists and expatriates, and hopes to do it while maintaining their hard-earned reputation as corruption-free.
The line reserved for foreigners had grown long by the midday opening, while only a few Singaporeans were ready to pay the steep entrance fee.
The casino is part of the new Resorts World Sentosa, built by Malaysia's Genting Bhd for $4.7 billion on a small island just off Singapore's coast.
The opening will be followed by Las Vegas Sands' Marina Bay Sands in May. The government hopes the casinos will increase the country's GDP growth by 1% and add 35,000 jobs.
"They recognize they have to evolve," said David Cohen, an analyst with consultancy Action Economics in Singapore. "Some of their traditional industries are no longer going to be competitive as Singapore climbs the ladder into a higher income, higher cost location."
After long debate, government decided to go ahead with the casino projects for their economic benefit while implementing measures to minimize social harm. Locals must pay huge entry fees, and more than 34,000 residents — including those on welfare, in bankruptcy, with criminal records or flagged by family members — are barred from the casinos.
"It's a way to mitigate and ameliorate, to have the goodness without all the badness," said Lim Hock San, chairman of the National Council on Problem Gambling.