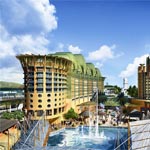 Singapore has issued a license to Resorts World Sentosa, which will put into operation the country's first casino. Singapore is hoping to broaden its financial horizons with this project and is looking forward to being a popular tourist destination. So far, all seems to be going according to plan.
The Business Times: Casino license puts spotlight on Genting
Investors will be devoting a lot of attention to Genting Singapore shares today, after Resorts World Sentosa (RWS) received a casino license from Singapore's Casino Regulatory Authority, Saturday.
RWS gave a strong presentation, Friday even before the awards announcement. In fact, Genting stock gained as much as $0.10 in the afternoon, reaching an intraday high of $1.18. A whopping 275.96 million shares changed hands, making it Friday's most heavily traded stock on. Genting was also the only gainer among 30 STI component stocks.
Four hotels and more than 20 restaurants and shops have opened at Sentosa's integrated resort. RWS hasn't indicated when the casino and the Universal Studios theme park would open. Market watchers are betting the casino will open for the Chinese New Year, which arrives this Sunday.
Bernama Business: Resorts World Sentosa Gets License To Run Casino
The new Resorts World Sentosa (RWS), Singapore's first integrated resort with a casino, has received a license from the Singapore's authorities to operate the casino. RWS chairman Tan Sri Lim Kok Thay said the award was made possible by the dedicated team, consultants, contractors and government officials, especially on the Casino Regulatory Authority, "which worked tirelessly to set up the regulatory framework within a very aggressive timeline".
He did not mention when the already completed casino in the resort will start its business. The resort, which is located on Sentosa Island, opened its doors to the public last month with the launch of four of its six hotels including Hard Rock Hotel and Crockfords Tower.
RWS is still waiting for another license to operate the Universal Studio theme park in the resort, dubbed the biggest in Southeast Asia.
Bloomberg Business News: Singapore approves license for first casino
Resorts World Sentosa was issued a license Saturday to operate Singapore's first casino, according to the city-state's regulators. Approval was delayed after the Casino Regulatory Authority asked Resorts World for more information about the casino in December.
Resorts World was built by Malaysia's Genting Bhd for 6.6 billion Singapore dollars ($5 billion). They declined to say when the casino would open. Officials previously stated that they planned to open it as soon as the government issued the license.
The 49-hectare resort opened 1,340 rooms in four hotels last month. They plan to open a Universal Studios theme park by March. The resort is on an island a quarter of a mile (about half a kilometer) off Singapore's coast.