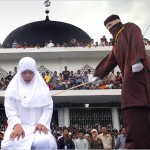 Four men were caught playing dominoes in Indonesia and sentenced to 6 canings each on behalf of their sins. The first of the 4 men were publicly caned, but the other 3 escaped prison and fled before they were punished.
The Washington Post: Indonesian gambling convicts escape before caning
Three Indonesian men convicted for gambling escaped imprisonment just before a public caning in the Muslim province, Aceh. Muhammad Rusli, the Local Islamic police chief, said the men fled Saturday during an unguarded bathroom visit minutes before being punished.
The men were caught playing dominoes for 1,000 rupiah ($0.10) per game. They were each to be caned six times at a mosque on Friday.
Aceh banned alcohol and gambling as it adopted Islamic law, after achieving semi-autonomy from the secular central government after a decades-long civil war.
The Jakarta Post: One whipped, three escape corporal punishment
With a Sharia police escort, Syahrul bin Muhammad limped to stage. He was about to receive a public caning as punishment in front of a mosque in Jantho city, Aceh Besar regency, on Friday. Syahrul was one of four arrested for gambling and scheduled to be punished.
He was unlucky. The other three suspects escaped the detention cell at the prosecutor's office, 15 minutes before they were to be caned.
The four were caught gambling in the village one month ago. They were immediately taken to the public order and Sharia police headquarters together with Rp 100,000 (US$11) in cash and a pack of domino cards as evidence. On Thursday, each was sentenced to six lashes of the cane.
Rusli denied allegations that the detention center's officers were bribed. He blamed the escape on the officers' negligence, saying the three suspects escaped after making an excuse to use the bathroom. He learned of the escape just before Friday prayers and ordered his men to comb the city, but the search was fruitless. He promised they will be punished if caught.
MSN News: Rights groups slam caning in Indonesia's Aceh
Islamic Caning in Indonesia's Aceh province is a "systematic human rights violation" and is against state law, according to a national human rights group. The group, Kontras, calls for the local administration to "annul physical criminalization" and revise its Islamic legal code. Kontras said laws in the semi-autonomous Aceh shouldn't work against Indonesia's international treaty obligations.
Activists noted the province's Sharia regulations were being applied selectively and affected the poor most. They claimed that rich businessman would never be caned for gambling.
The caned farmer was one of four men who were arrested in December after betting up to 1,000 rupiah (11 cents) on dominoes. The others escaped punishment but he received six strokes of the cane outside on Friday.
This issue is another blow to the Sharia police in Aceh after three officers were charged with gang-raping a woman in custody last month.